Lower Yukon's Yupík Language and Culture Program
As'iingaq Janet Johnson, LYSD Yup'ik Language and Culture Director
AASB CRESEL Spotlight – Since 2016, the Lower Yukon School District (LYSD) has been collaborating with AASB and six other districts across Alaska in the Culturally Responsive Embedded Social Emotional Learning (CRESEL) grant from the US Department of Education. The grant is part of the Investing in Innovation (i3) program to develop innovative practices that improve student achievement. In this article, As'iingaq Janet Johnson, the LYSD Yup'ik Language and Culture Director, describes how starting the school year with Student Subsistence (SS) days was a way to "…focus on our strengths to help us get started". The Student Subsistence days video is posted on the LYSD website.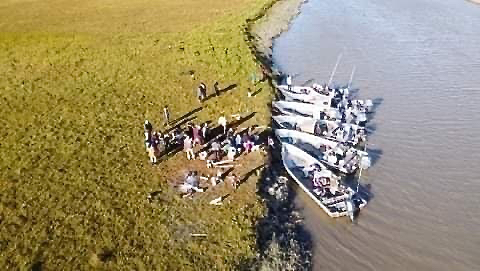 It has been said that subsistence is at the heart of Yuuyaraq, a way of life for Yupik people. Opening the school year with Student Subsistence (SS) days in Lower Yukon School District (LYSD) was an exciting and enriching time when the local environments became our school for two weeks.
First of all, I would like to thank Gene Stone, LYSD Chief School Administrator and the district office team for allowing culture, tradition, and education be the focus as we all return to school. With the many unknowns due to the COVID-19 virus that created an imbalance in our lives, it was a great way to focus on our strengths to help us get started in the school year. With the knowledge, wisdom, and help of paraprofessionals, community supports, and school administration, we made it happen. We now can look at ways to improve and strengthen this approach for next year.
From the reports and stories, I received, many students and school staff in LYSD were actively involved in subsistence activities. Each school was tasked with putting together a team prior to the first day of school to plan their two weeks of subsistence activities. It was a challenging task for some schools as they were faced with COVID-19 in their communities. However, with creative ideas such as one school reported, "We are working on putting together kits for each family to do at home which included beads, fur scraps, and materials for simple projects", schools were able to start small and build on what they had started. For other schools, subsistence lessons were taught and staff and students learned together how to hunt and process seals, moose, and birds, pick and process berries, medicinal plants, and ayuq tea, fish, dig for clams, and visit historical sites in our region. Yupik values guided each subsistence activity and there was so much respect for land, animals, and nature among the youth.
"Students and adults sat in a circle as everyone ate parts of the fried seal organs caught by one of the students. It was wonderful being together like that after cutting up the seal and sharing stories of what was taught and learned." – Teacher's Assistant
The SS days created space for developing positive relationships between schools and communities in LYSD. School staff saw first-hand the skills and strengths of our youth. Students were proud to share their knowledge about subsistence as the local experts and elders guided them. There was respect for the hunting and gathering tools, the environments, and the knowledge from which elders shared among the youth as school staff observed them in action. Yupik values like cooperation, sharing, hard work, observation of weather, and respect for nature and animals were practiced daily.
"There is purpose in what the Yupik people do during subsistence activities. It's not a sport. It's a way of life out here." – LYSD Teacher
"I was impressed with the way how students carefully handled and protected their spears. There is honor in the way they (students) hunt." – LYSD Teacher
Students were eager to start the school year knowing who their teachers are from SS days. Teachers were able to use some of the lessons learned from their SS experiences in their lesson plans. Yupik Values are now referenced in classroom management and behavior expectations. And students are relating to that.
"It's a great way to start the school year." – LYSD Parent
"I like school. I can't wait till we go pick berries with my class." – LYSD Elementary Student
It is our hope that in the upcoming years, LYSD will continue to open the school year with Student Subsistence Days as a way to build, establish, and maintain positive relationships between students, staff, parents, and community members. Tapping into the strengths of our communities will ensure the preservation of culture and tradition, and provide a quality education for all our children.
Student Subsistence Days also helped students transition back into school. The social and emotional wellbeing of students and staff were the focus of the in-service trainings such as the CRESEL and Yuuyaraq Curriculum training sessions, as we look to strengthening one another and provide strategies to foster relationships through culture and Yupik Values.
I wasn't able to provide pictures and videos on my report due to the poor internet connections we are experiencing here in Kotlik. However, a video presentation was put together by Paul Galvez from Hooper Bay.
Quyana
---