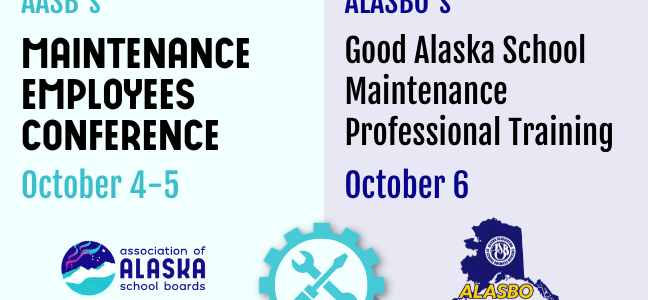 Maintenance Employees Conference 2023
AASB and Alaska Public Entity Insurance (APEI) is teaming up to bring you the 10th annual Maintenance Employees Conference, October 4-5, 2023, at the Clarion Suites Anchorage.
The 2-day conference will provide content centered on school district maintenance issues and safety. Attendees will learn from experts and peers, and network with other maintenance employees from across the state.
Topics may include:
Professional development of certified maintenance trainers
Stories from the field – District staff share their knowledge and experience
Health and Safety
Managing maintenance projects
Recruiting and training staff
OSHA inspections
Reports and updates from DEED
Fuel transfer and storage
Janitorial issues
Supply chain issues
…and more!
ALASBO Good Alaska School Maintenance Professional Training — October 6, 2023
This one-day training, also located at the Clarion Suites Downtown Anchorage, is for facility operations staff, including management, maintenance and custodial. This training, occurring immediately after the AASB Maintenance Employee Conference, will include maintenance best practices, operational staff roles in design, custodial management principles and compliance, CMMS and other key aspects of facility operations in Alaska. This includes some hands-on training, so come properly attired to visit operational facility spaces such as mechanical rooms and roofs.
Good School Maintenance Book
If you are attending the ALASBO Good Alaska School Maintenance Professional Training (Friday, October 6), please bring your copy of the Good School Maintenance book.
If you do not have one, workbooks can be ordered individually directly from the Illinois Association of School Boards.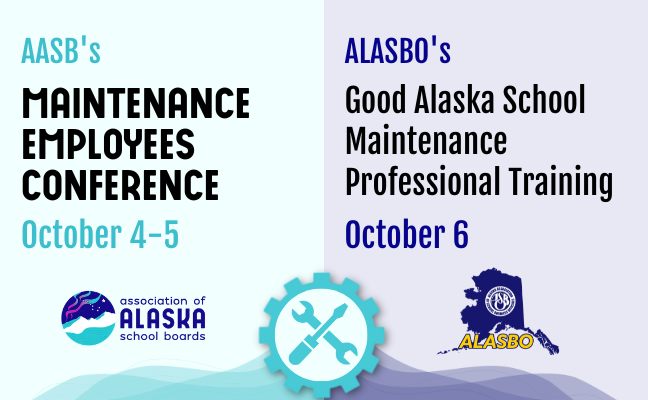 Booking Your Hotel
Cut-off Date: 9/20/23
Fees
AASB Maintenance Employees Conference — $450
October 4-5, 2023
ALASBO Good Alaska School Maintenance Professional Training — $225
October 6, 2023
Both Events — $607.50
October 4-6, 2023
10% discount when registering for both
Thank You to Our Sponsors!