Making Connections Across Alaska – Sister School Exchange Now Recruiting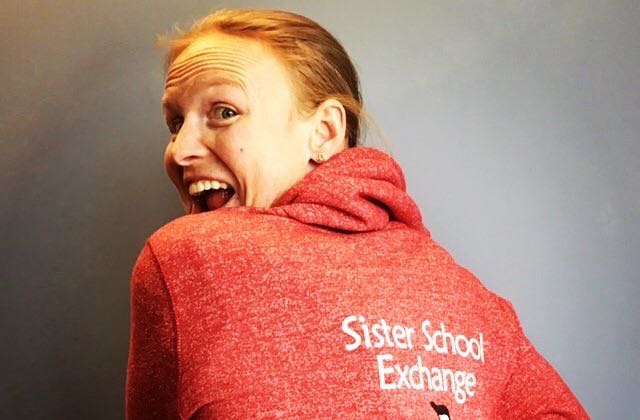 By Kari Lovett, Program Manager, Alaska Humanities Forum Sister School Exchange
Strengthening communities by connecting Alaskans is what the Alaska Humanities Forum strives to do through its various programs. The Forum's Sister School Exchange program is currently recruiting for this year. This is a year-long school program, matching a teacher and five students from an urban community with a teacher and five students from a rural community. The paired teams work simultaneously through a cross-cultural curriculum that is housed on an online learning platform to prepare and enrich the exchange experience. The culminating experiences happen when the teams meet face to face during a two-way exchange when they take turns visiting and hosting their Sister School community.
My name is Kari Lovett, and I am a program manager for the Alaska Humanities Forum's Sister School Exchange. I was born, raised, and educated in urban Alaska. I spent time teaching in the village of Noorvik, where I was able to take two groups of students through this program. I believe in this program because I've seen the transformational impact of travel. It prompts personal reflection while experiencing other ways of being. At the Alaska Humanities Forum, with all of our programs, we strive to connect Alaskans through experiences that positively change lives.
Why Cultural Exchange?
This program began in the early 2000s as a result of rising tensions between groups of Alaskans and has enjoyed a rich history of impacting hundreds of individuals across the state. Not only does it impact participants, but also the community surrounding the travelers. Host families open their homes to students from a different community and in turn learn about another part of Alaska. Educators open up their classrooms for visiting students to actively participate and contribute to the day's learning. Non-traveling students interact and learn from the visiting students. Community members share their culture, knowledge, and way of life with the visitors. These individual interactions build stronger networks of understanding statewide.
Students who go on the exchange experience personal growth. They reflect on their own culture, values, and beliefs. They learn how to be an ambassador for their community, how to adapt to different ways of life, and how to push themselves to try new things.
The length of travel allows students to adjust to the rhythm and pace of their new environment. Visiting students attend school, explore the community through field trips, spend time with host families, and receive an authentic picture of what life is like in the community.
A week in a new community can provide many valuable insights. It's always the unexpected discoveries that tend to stick with the students the longest. For example, "they go to school way early," "everything is so close you can walk," or "they go to the store only once a week." While the differences can easily be pointed out, the similarities bond the students from two separate teams into a cohesive group. They were strangers in the beginning, but have found enough common ground to become friends. The last day of the exchange is often a sad one as students have bonded and don't want to say goodbye to their new friends.
What's Happening Now?
Right now we are actively recruiting for schools to participate in the 2018-2019 school year program. We are looking for schools with a dynamic educator who is excited to lead a group of five students on a cross-cultural exchange in Alaska. We need schools who will support their educator as they recruit students, host families, and plan activities for the visitors. This program allows the educators to choose the times that best fit their school's calendar to travel and host. If you know of an educator who might be interested, please let us know.
Recruiting for 2018-2019
Currently, we are looking for educators to lead teams through this experience next school year.
Who: We look for both middle and high schools to participate in the program. (Grades 6-12th)
When: Applications for educators wanting to lead a group are due September 4th. The program takes place throughout the school year.
Cost: The program covers all cost of travel including flights, food, lodging, and educational activities.
Additional Information & Applications: Can be found at www.akhf.org/sse
# # #
The views expressed here are the writer's and are not necessarily endorsed by the Association of Alaska School Boards. AASB welcomes diverse perspectives and civil discourse. To submit a Guest Column for consideration, see our Guest Column Guidelines and email your 400-1000 word submission HERE.