Melody Douglas Receives UA Excellence in Adjunct Instruction Award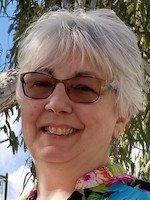 UAS Adjunct Professor of Education Melody Douglas has been named the recipient of the UAS 2019-20 Excellence in Adjunct Instruction Award. Her achievement will be honored May 4 at the annual UAS faculty excellence celebration, held via videoconference this year.
Ms. Douglas is Associate Executive Director of the Alaska Association of School Business Officials (ALASBO), retired as Chief Financial Officer of the Kenai Peninsula Borough School District, and a longtime colleague of the Association of Alaska School Boards.
Through a Q&A session conducted by email, we had the opportunity to learn more about Ms Douglas' varied and interesting professional background in Alaska, her views on issues facing public schools, and her advice for students considering a career in school finance.
What jobs have you held and where have you worked during your career?
My career began after I graduated from high school when I was hired to be a bank teller for National Bank of Alaska (now Wells Fargo) in Sitka. I transferred from the Sitka Branch of NBA to work at their data center in Anchorage when I was promoted to reconcile the bank's general ledger. During construction of the pipeline, I worked at Terminal Camp in Valdez, where I was a key-punch operator for Alyeska Pipeline Service Company. When I returned to Anchorage, I worked for Alaska Constructors, in the payroll department processing a weekly payroll, that included 27 unions, for individuals involved with construction of the pipeline. It is my understanding this was the largest payroll in Alaska's history. And…. this was before direct deposit was available to employers! My husband and I moved to Soldotna where I accepted a job at the Kenai Peninsula Borough School District (KPBSD) to account for all fixed assets in the district. Talk about mind numbing work after the excitement of processing the pipeline payroll! However, I am thankful to have been hired by KPBSD. I finished my career with the district as the Chief Financial Officer (CFO).
What made you decide on a career in school finance?
My mentor at Alaska Constructors told me that if I had an opportunity to work in government that I should take it and that I would not be disappointed. She was right! My mentor at the district, Dick Swarner (who I worked with for twenty years) supported me in taking accounting and other college classes. The first accounting course I took was governmental accounting – talk about jumping into the deep end of the accounting pool! Dick also supported me in all areas I wanted to tackle at the district. Eventually I had the experience, skills, and knowledge to become the CFO. I worked at KPBSD for over thirty years.
What advice would you give a student to convince them to consider a career in school finance?
Working in school business would be a rewarding and exciting opportunity for students. With initiative and a good work ethic, students could have a career with interesting and varied work that supports K-12 public education in an impactful way affecting future workers and leaders. Students should find a mentor and develop a network of individuals to serve as a resource.
Where did you obtain your postsecondary education degree(s)?
I received a Bachelor of Science Degree in Accounting from the University of the State of New York. However, most of my classes were held at Kenai Peninsula Community College and UAA. When the community college system was absorbed into the Alaska University system, I lost approximately three quarters of a year of required credits for my degree when they were converted to elective credits in that transition. My goal was to be promoted into the lead finance position at the district; I did not have the time to retake required courses. The University of the State of New York had an accredited program that met my needs. It was a good thing, because had I not received the degree when I did, I would not have received a promotion with the district.
What do you see as the most challenging issue facing Alaska's public schools?
Despite decades of advocacy, Alaska does not have a fiscal plan much less a sound one. This affects all areas of state operations, not just public education. I am also concerned that the base student allocation (BSA) in the funding formula has not changed since FY17; this means the BSA has not changed in five (5) years! School districts are absorbing increases that come with collective bargaining agreements in addition to inflationary costs. This comes at a cost to public education that must not continue.
Describe the course(s) you teach at UA.
I was a co-instructor with former superintendent, Jack Walsh, in teaching the ED 644 Educational Finance course last fall. We made a good team in tackling the topics aspiring superintendents (and some new superintendents) need know. This class explored the financial elements of running a school district including budgeting practices, accountability systems, audit reports, funding formulas, board involvement, community involvement, ethical standards and administration of funds. This spring, we are teaching ED 646 District Operations that examines the three primary areas essential to effective administration: human resources management, facility management and planning, and ancillary services management such as food service and transportation. These two courses are part of the UAS Superintendent Endorsement Program. I appreciate being part of this program because I believe a strong and collaborative relationship between the business manager and superintendent is essential to successful school business operations. Jack's and my experience, guest speakers, and course content, provided class participants with a sound basis in school district finance and operations.
How long have you lived in Alaska and what brought you to the state?
I was born in Ketchikan where I lived until I graduated high school. I am from a commercial fishing family; my dad fished for salmon out of Ketchikan and Sitka for 65 years. My husband and I have my father's power troll permit that he received when permits were first issued for commercial salmon fishing in Southeast Alaska and we have my dad's last boat that he built. Two of my brothers make their living in commercial fishing.
What interests do you have outside of your professional life?
Spending time with family that includes those who have become family over the years brings me great joy. My husband and I spend summers at our remote property – we have 83 acres on the Yentna River (accessed through Willow) that we are developing. We staked most of this land in two separate staking periods and the rest we purchased from people who staked property when we did. I also enjoy reading and needlework.
What has given you the greatest satisfaction in your chosen career?
I have worked with some remarkable people throughout my career and together we accomplished much for the district. There is no way I could have accomplished the projects tackled at KPBSD without the amazing team I worked with at the district. Dick Swarner, each of the superintendents, and school boards I worked with supported ideas and projects brought forward and Laurie Olson was at my right hand at every juncture. No one stands alone in anything. I am thankful for Dick, Laurie, and the rest of the KPBSD team! I am now working with a fantastic, talented and insightful group of colleagues in ALASBO's New Business Manager Institute. Our vision is to build capacity in school business in Alaska. We are starting the third year of this program in July. What has given me the greatest satisfaction is to be of service to others and to see team members and colleagues grow and become leaders.
What one thing would you consider your greatest contribution to Alaska's public schools?
I believe my greatest contribution to Alaska's public schools is working with Dave Jones (now Assistant Superintendent of Instructional Support for KPBSD), other colleagues, legislators, and others to secure an unprecedented three (3) years of forward funding for K-12 schools for FY09, FY10 and FY11. Those years, districts could plan effectively! Forward funding should be an underpinning of school funding in Alaska. In addition, the funding formula should be based on the prior year's enrollment with a built-in variance safety net. Working from current year enrollment is challenging when enrollment does not meet projection!
What is #1 on your bucket list of things you want to do?
Visiting all the US national parks would be interesting and fun.
# # #