MINI-SESSION SUMMARY: Advocacy in an Urban Setting
Deena Mitchell, Anchorage School District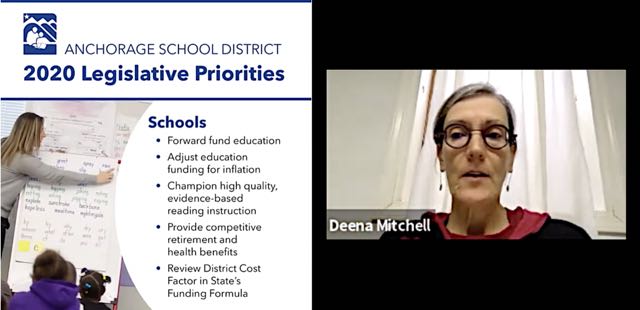 The morning program featured three 10 minute "mini session" presentations by members of AASB's Board of Directors on how to conduct advocacy efforts from an urban, rural, and a Federal perspective.
Deena Mitchell from the Anchorage School District began by saying a big part of a board member's job is communicating with legislators. "Advocacy doesn't just happen during the legislative session," Mitchell said. "It really is about building relationships year round with your legislators." She suggested inviting them into the schools and keeping in touch with them on issues that are important to your district.
Ms. Mitchell described three methods ASD uses to connect with their legislators to advocate for district priorities.
First, the district has developed a formalized process that is tied to their education goals. In September they begin by reviewing the district's goals, budget, and bills that are going to be introduced, and decide what to advocate ensure that the district is speaking with one voice. The board and administration meet several times to review past priorities and develop a set of priorities for the current year. Many of the district's priorities mirror AASB's.
Once the priorities are agreed to by the board and administration, a flier is developed summarizing the priorities and grouping them into categories, such as Schools, Services, and Support. This year's ASD flier included graphics that illustrated reductions the district has had to make since 2013 due to flat funding of education, and graduation rates from 2006-07 to present.
The second thing Anchorage does is host a Legislative Priorities Event that legislators, aides, and community members are invited to attend. Past events were held at the King Career High School with a lunch created by the students, but due to the pandemic this year's event was held virtually. During the 90 minute gathering, the district's priorities are presented, and time is allotted for questions and answers.
The third thing is the "Legislative Buddy" Networking system ASD has developed this year. In the past the district has relied on board members to use their personal relationships to reach out to legislators, but this year each board member has been assigned to a legislator for connection and outreach to legislators, as well as to act as a resource for legislators to turn to or ask questions. Often board members are assigned to a legislator who may not share their political views, which can be useful.
Board member Penny Vadla added that the Kenai Peninsula Borough School District started a "Key Communicators" program that involved a cross section of people from the community—business leaders, students, parents, teachers, principals, board members, etc.—as advocates for the schools. She said including their voices made a big difference.
In addition to this formalized process, which she says has worked well for ASD, Mitchell offered a few "Lobbying According to Deena" tips to consider.
"People think of lobbying as a dirty word, but it really isn't. Lobbying is just another word for advocating," she said. "It is our right as citizens and as board members to lobby our legislators who are making these decisions."
Having facts and figures is valuable, but the thing that can really tip the balance is having stories. Stories can touch people's hearts and can make a difference. Students sharing their stories is even more effective. They are the ones being impacted and can provide a different vantage point than adults. Including students in meetings with legislators is really key.
Getting community members and parents to testify can be very compelling. Unfortunately, when teachers testify it can be viewed as self serving, whereas when parents, students, and general citizens who care about the future of Alaska and the investment they're making in education through their taxes, it's harder for legislators to question their motivation. She suggested boards connect with PTAs, parents, and students. Having their testimonies be story-focused can be very helpful, she said.
Remember to thank your legislators for things that they do to support education. There are 6-9 months of "off-session" time in which to get to know your legislators. By interacting with them informally on a personal level in your community builds affinity and trust. Legislators can be much more relaxed and open than they would be in a formal setting, and casual conversations can be productive.
Resources
ASD 2020 Legislative Priorities flier
ASD Legislative Priorities Event Invitation
ASD Legislative Buddy Networking assignment list
---