Paideia Cooperative School, Principal Douglas Gray, named Alaska Association of Elementary School Principals National Distinguished Principal for 2019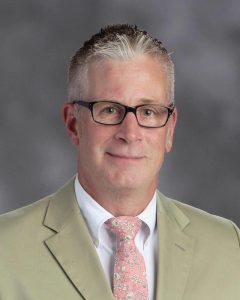 The Alaska Association of Elementary School Principals is proud to announce our National Distinguished Principal for 2019 is Doug Gray, principal of Paideia Cooperative School in Anchorage, Alaska. The 2019 National Distinguished Principal Celebration marks the 35th year that the National Association of Elementary School Principals has presented this prestigious award.
Doug Gray was nominated and selected by his fellow principals through a statewide search process conducted by the Alaska Association of Elementary School Principals.
Gray graduated from Notre Dame College with a Bachelor's Degree, he then added a Master's Degree in Special Education from Framingham State College in Massachusetts and later an Administrative Certificate from the University of Alaska, Anchorage. Doug began his administrative career as a principal at Clarks Point Elementary in 2000 and went on to be the ECE Special Education Supervisor then Director in the Anchorage School District from 2006-2011. He went back to the principalship in Anchorage at Lake Otis Elementary in 2012 and is currently in his first year at the principal at Paideia Cooperative School.
Gray is a true leader in the profession. He has been recognized as the Southwest Region Teacher of the Year and currently serves on the Education Northwest Board of Directors. He has made numerous trips to Juneau to advocate for education in Alaska. He was one of the original planners of the RTI Conference that is now a premier annual professional development event in Anchorage produced by the Alaska Staff Development Network (ASDN). Doug is also a fierce proponent of early childhood education. While at Lake Otis, Doug partnered with a community-based social worker to provide mental health support to his students. Michael Jones, a counselor who worked for Doug said that, "Mr. Gray recognized that if the social and emotional needs of the members of a school community are not being met, learning is not happening." Doug also understands and supports the needs for a strong academic program yet recognizes that the same program will not work for all students. One of his current teachers wrote that, "Mr. Gray's leadership style exhibits wisdom to incorporate traditional curricular standards while allowing freedom to explore new methodology for instruction." He does not give up on getting students where they need (and want) to be.
Gray will travel to Washington DC in October 2019 for two days of activities planned to honor and bring well-deserved recognition to the elementary administrators selected by their respective states.
AAESP believes that Douglas Gray is well deserving of the National Distinguished Principals' Award. We are proud to acknowledge his leadership and commitment to Alaska's children representing Alaska's elementary principals.
For more information please contact Eric Pederson, Alaska Association of Elementary School Principals President, (907) 226-1801, epederson@nullkpbsd.k12.ak.us
# # #