Passing the Torch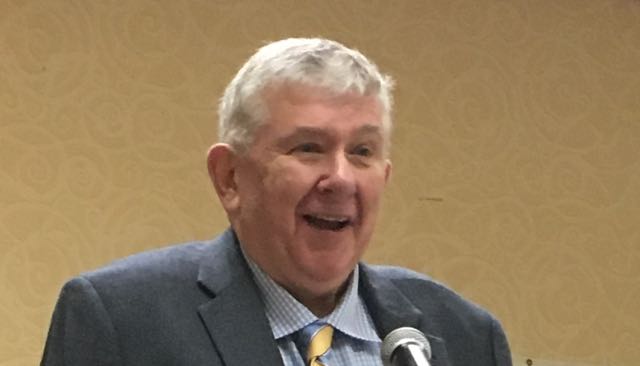 Norm Wooten, AASB Executive Director
As I write my final article for AASB's Commentary, I want to thank you for the incredible opportunity it has been for me to serve as your Executive Director. I've had a wide array of careers during my life but working and serving at AASB has been the pinnacle of my professional life. The service you provide to Alaska's young people as school board members has and will continue to ensure Alaska's success in this nation. I thank you for allowing me to be a partner with you in this endeavor we call public education. I have had the privilege to visit and see the areas where you reside. You have shared your homes, families, and culture with me and made me a better person for the experience. I thank you for your support, friendship, and most of all, your service to public education.
I will be employed by AASB through the 2021 legislative session. However, my replacement, Lon Garrison, will assume the Executive Director position effective January 2, 2021. I have known and worked with Lon for many years, and he is well qualified to lead AASB to even greater accomplishments. I encourage you to give him the same respect and support you have provided to me. Lon is highly capable, and we are in the midst of a leadership transition to ensure his success in serving the membership.
This political season has been the most contentious and acrimonious I have ever witnessed on both a national and state level. Our mailboxes overflowed with political campaign flyers. We experienced nightly calls from pollsters trying to ascertain which candidate was leading in the various races. The advent of "voting by mail" held us all in suspense for days as ballots continued to arrive and the numbers fluctuated – even reversing from early returns. The passage of Proposition 2 promises to bring even more change to our elections with "ranked voting" as well as a likely reluctance for candidates to accept outside contributions with more transparency in campaign finance.
With the winners of legislative races now clear, there is even more uncertainty over the organization in both the Senate and the House. If the bodies were to organize along party lines, the majorities would be so close it will be difficult or even impossible to pass a budget. The ideologies among those of the same party are so different that consensus seems unlikely. The election results have brought even more uncertainty. Will there be coalitions in one of both bodies. Will partisan politics make a coalition impossible? And what about the plethora of new legislators who are unfamiliar with and even unwilling to accept compromise. Rest assured that politics is the "art of compromise." A refusal to compromise leads to gridlock, and gridlock is not only "bad public policy" – it is "no public policy" and does not appropriately serve the state and its citizens.
Having said all this, as school board members, we need to remember that serving students is a non-partisan endeavor. We work with both sides of the aisle, and our only agenda is to provide the best education possible to the young people of Alaska. The election is over, and whether the candidate we supported won or lost is now a moot point. We must roll up our sleeves, get to work, reach out to our legislators, and tell them our stories. Those stories are about the needs of our students. I urge you in the strongest words possible, to fulfill your duties as elected school board members and advocate for your students.
AASB will be providing you with resources in the coming days. The Session newsletter will resume publication shortly. We will provide you with timely information on upcoming important hearings, education legislation being introduced, information on how you can make your voice heard, and analysis of legislation. Resolve that in this legislative Session you will respond to "Calls-To-Action" when the alerts go out. Sign up for "Testify by Text." To join, text AASB to 474747. Reach out to your legislators even before the Session. Advocacy is most effective through personal relationships. Share your stories – not just your needs and challenges – but also the stories of your students' incredible accomplishments.
And finally, as I end every Fly-In presentation, "If you don't advocate for your students, Who Will?"
---