Planning for Professional Boundaries Training for the 2022-2023 School Year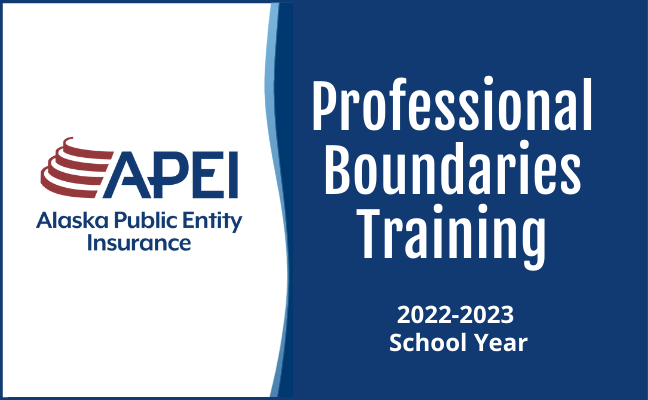 Through our work in relation to school district liability coverage, APEI has recognized a need to help school districts protect their students from sexual abuse. APEI has worked with several organizations and individuals to develop training to help school districts recognize the warning signs of potential abuse. This training, Professional Boundaries for Alaskan School Staff, is available from APEI to all Alaskan schools.
APEI recommends schools provide training in professional boundaries to all staff and volunteers upon hire and every school year. Professional boundaries training helps school staff identify professional boundaries and recognize violations of those boundaries. Training also describes how boundary violations have the potential to lead to sexual abuse, how adhering to professional boundaries can help prevent sexual abuse in schools, and how and when to report boundary violations.
As planning for the 2022-2023 school year begins, schools are encouraged to look into options for professional boundaries training and include the training in the in-service training provided near the start of each school year. Training options available to both APEI members and non-members from APEI include:
Live virtual training: APEI pre-schedules training that any interested individual can attend. For a current list of upcoming training and registration links visit https://akpei.com/professional-boundaries-for-educators/
Recorded on-demand training: Professional Boundaries for Alaskan School Staff is now available to view on demand and can be assigned to staff to view.
To request access to on-demand training, or for more information on any of these resources, contact Carleen Mitchell or call 907-523-9430.
---