SEL: Do Relationships Give Students A Learning Advantage?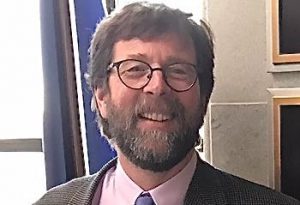 By Pete Hoepfner
AASB Board President
Greetings school board members! The days are progressively getting longer as spring approaches.  As the end of the school year approaches, and spring comes upon us, students start to get antsy for the freedom summer, otherwise know as "spring fever"!
This month I am touching on Social Emotional Learning (SEL), the relationships of students with all school personnel and the need to address the "whole child." We all know that students come from a wide background of beliefs, cultures and families. When students have good relationships with the schools and can use skills to navigate social and emotional challenges, we will see academic gains.
It has been found that Social and Emotional Learning not only provides a foundation for safe and positive learning, but also enhances the students' ability to succeed in school, careers, and life.
Social and Emotional Learning can be incorporated into the school environment and into instruction of nearly every subject. Ultimately SEL build skills students need to be successful at home, at school, in the workplace, in life. When students have social and emotional skills they are self and socially aware, and have the ability to manage themselves both independently and while interacting with others. Students engaged in SEL skills can listen to perspectives of others, use positive communication, be aware of cultural issues and differences, set and achieve goals, and take personal responsibility for their learning.
By working together, schools and parents can promote children's SEL skills which can lead to more confident and successful children.
Young people who feel safe and supported are happy learners and can focus their attention on academics and become engaged in their school.
SEL can greatly impact student learning and school success when teachers model positive behaviors and reinforce the skills in students.
Social and Emotional Learning when coordinated and used as a whole school approach has been shown to increase retention of school staff and staff satisfaction.
Social and Emotional Learning is described as encompassing five areas: self-management, self-awareness, social awareness, responsible decision-making and relationship skills necessary for success in school and life. SEL skills along with with school connection and academic engagement is key to any turn-around strategy.
To achieve the self awareness and academic gains in students from SEL, there are three areas to focus on:
Creating a safe and respectful learning environment, which is well managed, supportive, and engaging with active participation.
Using a variety of programs to deliberately teach the SEL skills students need to be successful learners.
Integrating SEL skills throughout the day and in all curriculum areas through modeling of instructional practices that promote SEL skill practice and maximize learning.
AASB's Initiative for Community Engagement (ICE), has partnered with districts for more than a decade to adopt social and emotional learning. Most recently, ICE has worked with multiple school districts and communities to develop the Culturally Responsive Embedded Social and Emotional Learning (CRESEL) program.  You can read about the program's first year highlights in this CRESEL Report.
School board members can help through prioritizing approaches within district planning, policy development, or budgeting. School board members and community members can also help to build student strengths every day in small ways, greeting students and acknowledging them, giving the students "kudos" for their accomplishments (rather than just the parents), shows students that you care about them.  As we all know, children come to school from a wide array of family and home situations.  We need to make sure all schools are a safe and caring environment, which ultimately leads to greater academic achievement.
The Collaborative for Academic and Social Emotional Learning has compiled more than two hundred evidence-based social and emotional approaches that can be found on their website. In Alaska, several districts have been working to make cultural adaptations to social and emotional approaches and standards. For more information contact:  lgrassgreen@nullaasb.org
Resource Links:
Additional resources and reading
Edutopia for videos and other resources
Oakland Unified School District in CA has useful videos of SEL in action on their website