Session Summary: Remarks by the Commissioner
Commissioner Dr. Michael Johnson, Alaska Department of Education & Early Development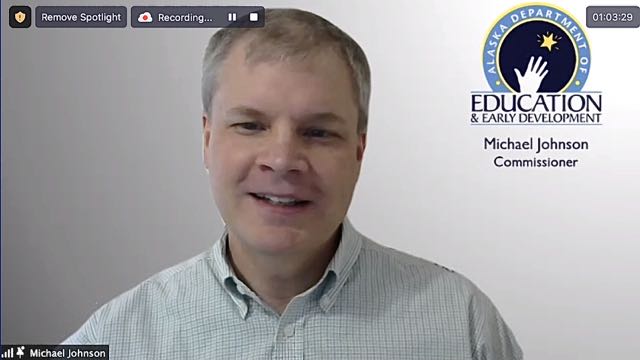 Commissioner Johnson welcomed participants and acknowledged their strength and leadership as they worked through the challenges of the past year to provide a safe and meaningful education to Alaska's students.
Commissioner Johnson asked boards to consider three suggestions:
Protect local authority, and your role in governing as school boards. This past year you have faced intense public pressure. Local control was the best way before, during, and after the pandemic. Locally elected school boards are closest to the students and families in your district. Don't ever give up control. If you do, you may not get it back.
Learn as much as possible about your schools, and embrace your responsibility to govern them. Don't settle or anything less that what you want for your students. School boards have stepped up to guide your schools thru a very rough year, and I'm super proud of you all.
Look to your own educators for answers. The path forward lies within your own school. If we would just behave the way we teach our kids to behave, we will figure out the answers much quicker, including how best to handle conflict.
Humility is a wonderful quality, but it has been rare this past year, in terms of knowing all the answers. During the pandemic, Alaska's diversity may have been forgotten in the process of finding "consistent" solutions for different districts. One size does not fit all, and we need to remember that,
CDC will soon be offering updated guidance on school reopening and we will be working with Dr. Zink to incorporate that into the Smart Start plan. We will have to look to our health care authorities to see what worked well and what we may need to do differently. School boards have never had to work with health care authorities in this way before.
I have confidence that the collective wisdom of boards. Look to your schools. Kids will act just the way we teach them. When we look back on history, grace and strength have always survived tragedy and conflict.
---