Summary of Statewide School Reopening Plans
Balancing the educational needs of students with the health and safety of staff, students, families, and communities is the challenge schools across Alaska are facing this year.
Throughout the summer, districts have been busy preparing school reopening plans based on the Smart Start guidance framework provided by the Alaska Department of Health and Social Services (DHSS), and the Department of Education and Early Development (DEED). In collaboration with local stakeholders, school boards and administrators have utilized the framework to assess local pandemic risk levels and develop procedures for the continuation of teaching and learning during the 2020-21 school year.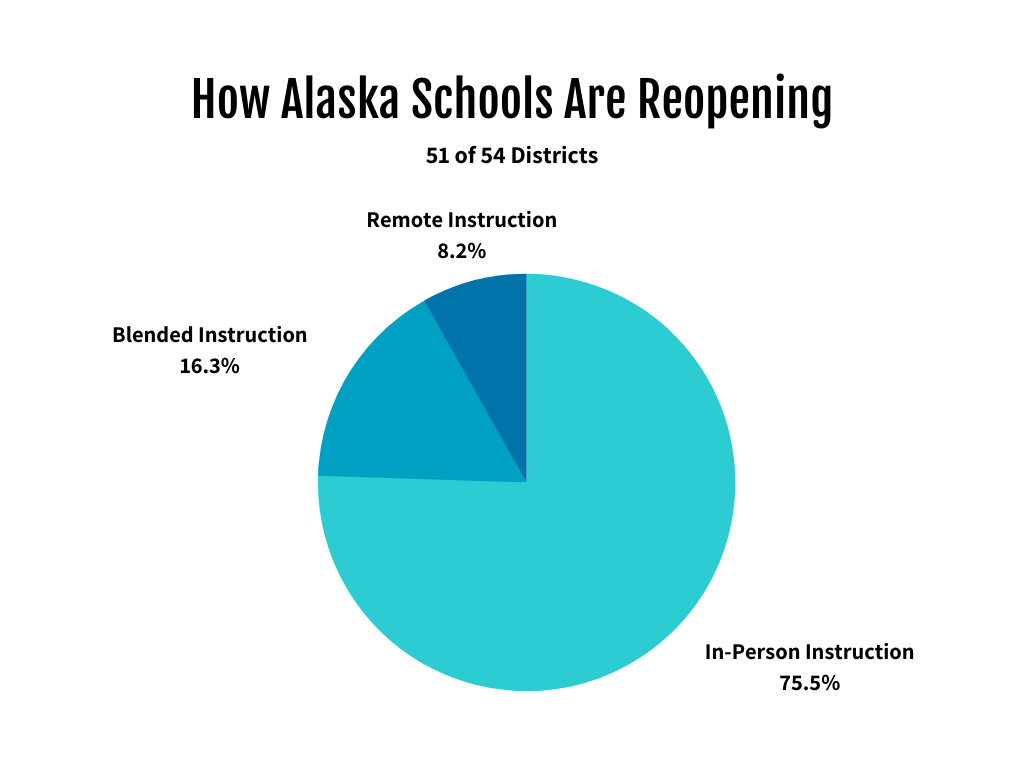 Based on the level of risk in their community, each school within a district may adopt a different set of protocols and schedules. While many districts are reopening schools for In-Person instruction, most are also offering a range of alternative learning options, such as Blended (combination of in-person and remote instruction), Remote (teacher instruction), and Homeschool (parent instruction). Some Alaska homeschool programs report that applications have doubled compared to past years.
As the 2020-21 school year gets underway, parents will be able to to choose which of these instructional options best suits their student and family needs.
Additional measures districts are taking to help ensure the safety of students and staff returning to school buildings include mask and face shield requirements, staggered A/B attendance schedules, classroom and hallway configurations that support social distancing protocols, grouping students into smaller learning cohorts, and increased cleaning and sanitation regimens.
The table at right is a snapshot of the instructional methods some districts plan to deploy at the start of the school year. The information is primarily based on school reopening plans that districts have submitted to DEED, and is subject to change as community pandemic risk levels are reassessed and updated.
---
SCHOOL REOPENING BY DISTRICT
Instruction methods and school opening plans are subject to change as pandemic risk levels in each community are assessed and updated daily.
The information below is from the DEED Smart Start website and district websites as of 8/27/2020.. 51 of 54 Districts are included.
Parents in most districts have the option to choose In-Person, Blended, Remote, and Homeschool instructional options.
Detailed district Smart Start school reopening plans are available on the Department of Education and Early Development website.
* District plan not yet posted on the DEED website.