The Answer to Alaska's Education Challenge: A workforce that reflects the population at every level, especially at the head of the classroom.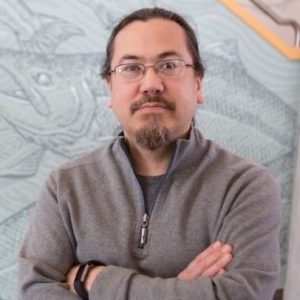 By Joe Nelson
Vice Chancellor of Enrollment and Student Affairs, University of Alaska Southeast
Chairman of the Board, Sealaska
Parent of Job, Nora and Jude Nelson
Spouse of Crystal Nelson
As educators and education policymakers, you have the most important job in our state.  You are responsible for our most valuable asset (– no, not our $62 billion Alaska State Permanent Fund). You are responsible for the growth and development of our children.
Alaska's economy of today and tomorrow demand a high-skilled workforce. According to the Department of Labor, 65% of Alaska's fastest-growing, high-wage jobs will require some form of postsecondary credential by 2020. We are currently at 45%, according to Lumina Foundation. Closing that gap will require improvement in attainment at every level. The good news is up is about the only direction we have to go.
Alaska's postsecondary access and completion rates are among the lowest in the country. The United States does not rate very well in postsecondary attainment. When we do not produce enough high-skilled workers, we import as many as we can, jobs go unfilled or under-filled, and the cycle continues. In the realm of education, we can and must break the cycle.
For good reason, Governor Walker's administration recently set out to transform our educational system in a public process that was marketed as Alaska's Education Challenge. A lot of great ideas filtered to the top. Collectively, the recommendations might have some transformative impact. Individually, many of the recommendations are merely common sense improvements. In a best-case scenario, the recommendations will steer us toward a new, student-centered, system that ensures personalized and culturally-responsive curricula is delivered to all students from a highly-qualified, nationally certified, collaborative workforce.
A lot of the right buzz words were on the list of recommendations, but the path forward is anything but clear.
In my two decades of schooling and two decades of working in higher education, I have come to rely on a fairly simple formula for student success:
A curriculum that properly reflects the community's history and values
+
High expectations for all
+
Positive role models
+
Love (aka support)
=
Student Success
None of those elements are easy to come by. However, they are much easier when educators share the same cultural background as the students. Anyone can provide high expectations, support, and positive role models, but not everyone can generate and deliver a curriculum that reflects the community's history and values. Educators can acknowledge and appreciate other cultures, but that is not the same as building a curriculum based on those values.
This is not about political correctness. This is about delivering an effective education by building our system around the worldviews of our communities. Twenty-five percent of our students are Alaska Native. Less than five percent of educators are Alaska Native. Non-Natives are not going to 'fix' or 'transform' the system in a way that improves outcomes for all without expecting or demanding education leadership from the Alaska Native community.
Our schools and policy-making bodies need to mirror the student population and communities that they serve. We cannot get there without traditional Alaska Native knowledge. We cannot get there without Alaska Native values and communication styles.
This transformation must focus on indigenizing the curriculum. The shortest path there is by producing Alaska Native Education leaders. A pipeline of homegrown educators is great. But if at the end of the day, the vast majority of superintendents are still imported from the lower 48, we will continue to be perpetuating a colonial education system. Plugging Alaska Native paraprofessionals into every classroom is not going to get us there. Every level of the payroll needs to reflect the beneficiaries of our services.
The university is a big part of the system that is producing these unsatisfactory results. As such, the University must be a big part of the solution. The lack of diversity among faculty is even more pronounced in higher education. There again, diversifying the faculty with adjuncts is not going to cut it. Future academic leaders in higher education must be able to directly relate to our highest need students.
As education leaders in Alaska, I hope that you will join me in acknowledging the fact that the solution to our Education Challenge is sitting right in front of us. If we can follow through on developing the next generation of leaders for our schools from our schools, we will be well on our way down the path to excellence.
Thank you for your work and dedication to our children.
# # #
The views expressed here are the writer's and are not necessarily endorsed by the Association of Alaska School Boards. AASB welcomes diverse perspectives and civil discourse. To submit a Guest Column for consideration, see our Guest Column Guidelines and email your 400-1000 word submission HERE.