Tiffany Jackson Receives 2019 Don MacKinnon Educational Excellence and Human Recognition Award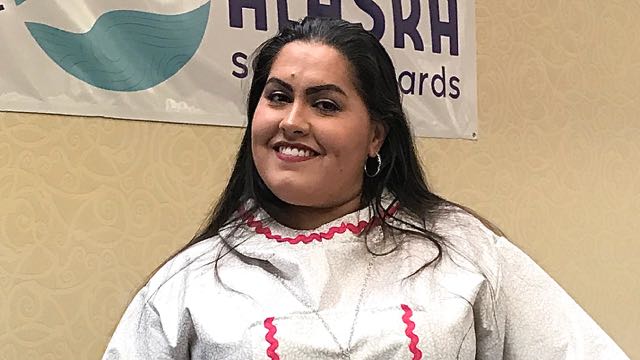 The Alaska Superintendents Association (ASA) is pleased to announce Tiffany Jackson of Sand Point, Alaska as the recipient of the 2019 ASA Don MacKinnon Educational Excellence and Human Recognition Award.
Among her many accomplishments, Ms. Jackson has been an Aleutians East Borough School District (AEBSD) Board member since 2007. During that time, Ms. Jackson has served as Board President for a total of 10 years. As a board member, Ms. Jackson has worked tirelessly with Tribal organizations and local government to promote maximum opportunities for students to build cultural awareness and to incorporate local traditions and values into a curriculum.
Ms. Jackson currently serves as the President of the Association of Alaska School Boards (AASB) and was first elected to the Board of Directors in 2010. She has also distinguished herself by serving on the Policy Committee, the Resolutions Committee and as Secretary/Treasurer. Having been elected twice president, she possesses extensive knowledge of Alaska's education systems from a board leadership perspective.
Ms. Jackson also serves on the National level. She was the first-ever Alaska Native/American Indian to be elected to the National School Boards Association (NSBA), and she currently serves on the NSBA Executive Committee. She has served as a Pacific Region Director for NSBA since April of 2016. Ms. Jackson served as the Aleut International Association's permanent participant delegate to the University of the Arctic in Oulu Finland and represented School Board members for AASB in New Zealand, where her focus was on the preservation and revitalization of indigenous culture and language.
As AEBSD Superintendent Patrick Mayer said, "Board President Jackson is simply an amazing advocate for Alaska's students, and her efforts to promote the importance of culture within the academic environment are without measure."
The MacKinnon Educational Excellence and Human Recognition Award was established in 1985 to recognize Don MacKinnon and his service to education in Alaska. Don was instrumental in forming a cooperative alliance among all school administrators and public education partners and was the first Executive Director of the Alaska Association of School Administrators now ASA and the Alaska Council of School Administrators (ACSA). The ASA Board of Directors established this award to be given to school board members who have provided meritorious service to their school districts and communities.
# # #