Time to Stick Together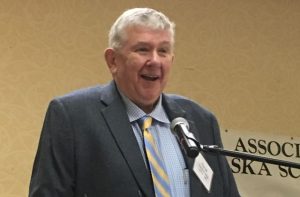 By Norm Wooten
AASB Executive Director
After a regular legislative session and four special sessions it seems as if we deserve a break in the action. However, the session is once again upon us and opens January 16.
The session opens again with no long-term fiscal plan in place. The political divide still exists between the Republican Senate majority and the coalition House majority. Optimism for a compromise is difficult to maintain.
We all need to remain cognizant of AASB's non-partisan status. Our membership represents school boards who have members from the far right, the far left, and every political position in between. While this sometimes makes it difficult to "walk the tightrope" it is my belief that this makes us a stronger association. It's worth remembering that we have only one agenda – representing the interests of Alaska's public school students. This enables us to coalesce and work together as advocates to advance that agenda.
You often have heard me state:
"There are two kinds of problems that school boards deal with. There are big people's problems and little people's problems. We need to be focused on little people's problems because when we worry about big people's problems, little people's problems tend to be forgotten."
Let's resolve anew to take care of the little people we were all elected serve and who are our agenda.
In these times of political divide and conflicting agendas it is more important than ever that we remain united as an association. We are not urban or rural. We are not Caucasian or Native. We are not women or men. We are not Republican or Democratic. We are not liberal or conservative. I keep a copy of AASB's mission statement on the wall in front of my computer to constantly remind me of what we stand for:
"The mission of the Association of Alaska School Boards is to advocate for children and youth by assisting school boards in providing quality public education, focused on student achievement, through effective local governance."
We will only be effective as advocates for students if we remain focused on our mission and work together for the "little people."
Remember the words of one of our founding fathers:
" We all hang together or we hang separately."


– Benjamin Franklin
# # #