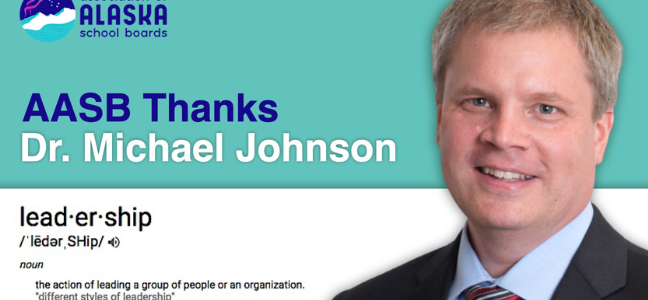 VIEW SLIDESHOW – AASB Thanks Dr. Michael Johnson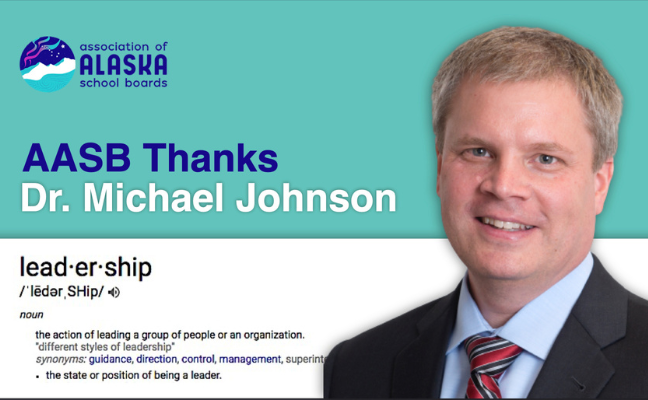 AASB would like to recognize and thank Commissioner Johnson for his exceptional service to Alaska and his support and belief in local school governance. Please join us in saying thank you. We've created this slide show illustrating some of the highlights of his partnership with AASB.
---
Dear Commissioner Johnson,
Thank you! Thank you from the bottom of our hearts for all the hard work, dedication, and passion to improve the lives and opportunities of Alaska's children through a quality public education. AASB especially wants to say thanks for being one of our most ardent advocates of local school board governance. Your commitment to local control and supporting local school boards never wavered.
The Pandemic tested each of us and none more so than you and the Department. Through your calm and indefatigable leadership, you helped all of us navigate a world event no one would ever have guessed we would face. Throughout the pandemic, you communicated constantly and were always available for questions and discussion. You resisted the idea of statewide mandates and instead developed supports that allowed local districts to make decisions that fit local needs. This meant that local school boards and especially their superintendents had to make hard decisions for their schools and often that was especially challenging. However, you were always there, with the department, to support school boards and districts so that each child had the best chance to continue to receive the public education that is their right as a citizen of this state. Thank you.
Not to be overshadowed by the pandemic, your vision and leadership for moving forward with Alaska's Education Challenge will be a key part of your legacy. When you first began your tenure as commissioner in 2016, AASB invited you to our office to introduce you to our staff. At that meeting, we presented our notion that a successful public education of an Alaskan student depended on many things including community and parent engagement, culturally responsive educators and instruction, SEL, school climate, early learning, leadership, and many other components. Not surprisingly, the resulting state strategic plan incorporated many of these same themes, not because of AASB, but because you knew this already. Your leadership in moving this forward with the state board cannot be overemphasized. AASB was honored to be a part of the Alaska Education Challenge and this confirmed for us that we had a responsive partner who shared our vision.
Today it is hard to imagine the Alaska Department of Education without your leadership. However, the best part of your service as commissioner is the realization that you have had a lasting impact on Alaska's Public Education policy. Through partnership and your calm, collected demeanor, you gave Alaska's education community the confidence that DEED was in their corner. For AASB and school boards across the state, we have appreciated your humility and grace and your unfailing support of the importance of local school board governance.
On behalf of the staff and Board of Directors of AASB, we thank you and wish you all the best in the next part of your life's journey.
Lon D. Garrison, Executive Director, AASB
Pete Hoepfner, President, AASB Board of Directors
---