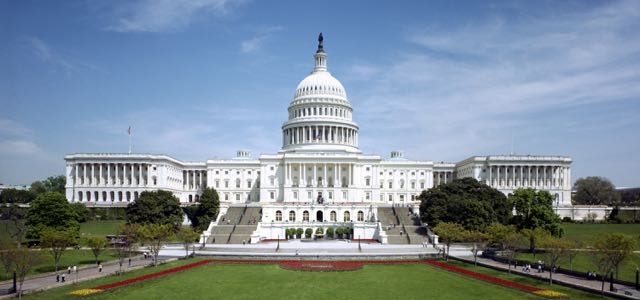 Washington DC Report
AASB is a member of the National School Boards Association (NSBA) headquartered in Washington D.C. Each year NSBA hosts an Advocacy Institute similar to AASB's Fly-In. 1½ days are spent learning about the issues with one day set aside for Capitol Hill visits. AASB's President, President-Elect and Executive Director attend this event. Since we have an Alaskan on the NSBA board she also was in attendance.
Confirmation of Betsy DeVos as Secretary of Education
This year we were in D.C. during the Senate Health, Education and Pensions (HELP) Committee vote on forwarding Secretary of Education Designee Betsy DeVos' name to the full Senate for confirmation. The HELP Committee passed her nomination out to the Senate. Because of the many calls to Senator Murkowski's office she did not vote for confirmation, however Senator Sullivan voted in the affirmative. The Senate vote was tied causing Vice President Pence to break the tie. Secretary DeVos was confirmed. AASB did not have a resolution, nor direction from the BOD so we did not take a stance on the nomination.
Secure Rural School Act – Timber Receipts
Timber receipts under the Secure Rural Schools Act was brought up to the delegation. Through the US Forest Service, funds are distributed to approximately half of the 53 school districts in the state. Other states benefit from these funds as well. These funds are necessary for many school districts to operate. These funds were last reauthorized two years ago. There is currently no legislation in play for reauthorization of the act. However, we were told that it could still occur as there was support from rural state delegations.
Child Nutrition Act
The Child Nutrition Act is up for reauthorization. This act is for helping ensure a healthy learning environment for students. NSBA's position is advocating for Congress and the new administration to enact a bipartisan child nutrition program reauthorization that ensures flexibility and relief for school districts to successfully administer school meal programs by:
increasing reimbursement levels and other federal funds to cover the cost of compliance.
authorizing local school districts to make implementation feasible with available federal resources, such as increasing flexibility for whole grain content and sodium reduction targets and increasing stakeholder engagement (including school boards) in policy and implementation.
School board members are committed to fostering a healthy and positive learning environment for our students to achieve their full potential; and, child nutrition is a top priority for student health. The last reauthorization for the Child Nutrition Act – the Healthy, Hunger-Free Kids Act occurred December 13, 2010, and reauthorized six major nutrition programs, including school breakfast and lunch. There was optimism among the delegation that progress would be made during this.
Carl E. Perkins Career and Technical Education Act
Carl E. Perkins Career and Technical Education Act is also up for reauthorization. This legislation focuses on expanding opportunities for college and career readiness.
NSBA is advocating Congress for swift passage of a bipartisan reauthorization for the Carl D. Perkins Career and Technical Education Act that includes provisions for a strong academic component and credentialing programs that will help our nations school districts continue efforts to advance 21st Century skills and knowledge to meet the needs of both students and employers, and provide practical training through apprenticeships and other opportunities. Congress has begun efforts to reauthorize the Perkins Career and Technical Education Act, exploring options to help school districts and states integrate stronger academic components; facilitate greater career pathways and credentialing; and, strengthen partnerships among school districts, higher education and businesses. Last reauthorized in 2006, this law provides states and districts with more than $1 billion annually, designed to prepare students for a wide variety of careers.
Federal Education Investments – Appropriations for Fiscal Years 2017-18
Federal Education Investments are always of concern to school districts. Board members advocated for Congressional passage of a final FY 2017 appropriations bill that maximizes the investments in special education, Title I grants for disadvantaged students, and related education programs that our students need for a strong future. Additionally, in asking that Congress, through bipartisan efforts, to avert further across-the-board cuts to education in FY 2018 and future fiscal years that impact the success of our students, school districts and communities.
The budget and appropriations process for Fiscal Year 2017 is halfway complete, pending a subsequent appropriations measure that must be enacted after the expiration of the current Continuing Resolution (CR) on April 28, 2017. Looking to the FY 2018 budget, there are two major issues:
Preventing another round of across-the-board budget cuts (sequestration) governed by the Budget Control Act of 2011
Prioritizing federal investments in Title I, special education (IDEA) and related education programs as well as increasing IDEA funding to the promised level of 40% from the present 17% funding level.
Educational Choice – Supporting America's Public Schools
In addition we advocated for Congress to support the range of choices offered by our nation's public school districts, which educate more than 50 million students. We urged both Congress and the Administration to encourage and advance a balanced dialogue on evidence-based choice options to help inform our nation's efforts to assure every child is prepared for college, careers and citizenship. Likewise, we urged efforts to "level the playing field" so that all schools that receive public funds are held to the same accountability standards and can be appropriately compared.
From local charter schools authorized by local school boards to public specialty schools, such as military academies and those offering specialized curricula for science, technology, engineering, and mathematics (STEM), many of our public school districts provide numerous options for educational choice that promote success in student achievement and school performance, thereby preparing our students for college and careers. We urged full accountability of the public funds for any educational purpose and believe that public funds should be used within public schools to advance curricula and choice, including charter schools authorized by local school boards. We also believe that public funds should not be used directly or indirectly through tax credits, vouchers, or a choice system to fund education at any elementary and/or secondary private, parochial, or home school.
Every Student Succeeds Act
In regard to the Every Student Successes Act (ESSA) the issue of Supplement NOT Supplanting funds was troublesome.
This idea of supplementing school funding, adding additional funding to school that are Title I with disadvantaged individuals above funds traditional schools received, rather than supplanting funding was clarified prior to Advocacy Institute.
The ESSA WILL supplement funding to the Title I schools, and these funds WILL NOT be supplanted.