WEBINAR SUMMARY: Effective Advocacy with the 32nd Alaska State Legislature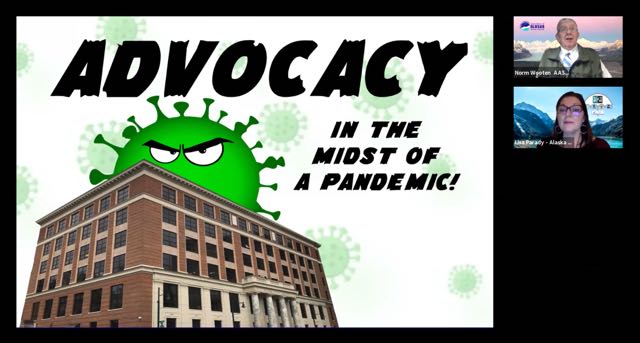 Norm Wooten, AASB and Dr. Lisa Parady, ASA
AASB Advocacy Director Norm Wooten and ASA Executive Director Dr. Lisa Parady guided participants through a one hour webinar that provided an overview of the political dynamics driving the upcoming legislative session.
With the Capitol building closed to the public due to the pandemic, in-person access to legislators has been curtailed and alternate methods of grassroots advocacy have taken on new urgency. Norm Wooten stressed the importance of school board participation, and suggested boards set up Zoom meetings and phone calls with their legislators as soon as possible, especially if their district has a newly elected legislator.
He urged board members to promptly respond to AASB "Call To Action" emails and provide meaningful input at key points during the session, and suggested they sign up to receive AASB "Testify by Text" alerts by texting AASB to 474747. Members can also stay informed about legislative developments by reading AASB's weekly newsletter, The Session, distributed each Monday morning.
The presenters discussed the impact of the governor's proposed budget, the impact it could have on the Permanent fund, and how it may be received by legislators. The Education budget is the second largest component of the state budget at $1.2 billion, which makes it a target for possible cuts, either through reductions to the foundation or cost shifting through bond debt reimbursement.
There was also analysis of Federal election results and how they may affect congressional education committees, in particular the U.S. Senate Health, Education, Labor, and Pensions (HELP) committee.
Wooten closed the session by reminding board members and superintendents that their advocacy efforts can and do make a difference. He offered a list of specific actions that school boards can take:
Contact your legislator
Respond promptly to Calls-to-Action
Testify-by-Text alerts
Develop a relationship with your legislator
Advocate for your students
Tell your story
"You were elected to provide a education for the children of your school district," he said. "If you don't do it, who will?"
2021 AASB Legislative Priorities
Click the button below to access the video recording,
slideshow, and other resources from this webinar.
---