WEBINAR SUMMARY: New Laws & Regulations In Alaska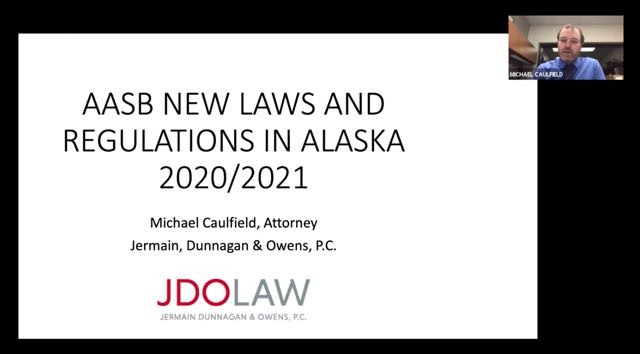 Michael Caulfield, Jermain, Dunnagan & Owens, P.C.
Education attorney Michael Caulfield provided a preview of what AASB's 2021 yearly policy update will include.
His firm conducts annual reviews of new state and national laws and regulations, and updates AASB's model policies to keep district policy handbooks current. This service is included at no added cost to districts that subscribe to AASB's policy updates.
Mr. Caulfield's presentation covered the following topics:
Public Records Policies (BP 1340 and 9324)
Complaint Policies (BP 1312, et al.)
School Accountability Policy (BP 0520/AR 0520)
Employment of Retired Teachers (BP 4112.10)
Title IX
This past year there have been a number of policy updates due to the COVID-19 pandemic. Highlights from the presentation included:
Public Records
All updated policies will include a retention schedule indicating how long records need to be saved. It's a good idea to keep records as long as possible, Caulfield said, in case they're needed to resolve any legal issues that may arise. Boardbooks and Board Docs also suggest that records be saved in a second secure location.
Audio and video recordings of board meetings can serve as references for creating meeting minutes. Once minutes have been created, those written minutes become the official record of the meeting, and the recordings can be deleted. If there is a request made for the minutes, they would then be provided in a written form
Unapproved draft meeting minutes can become an official record once they have been publicly disclosed as part of a board packet, even if they have not yet been voted on by the board.
Complaint Policies
Caulfield suggested posting a public complaint form on the district website in a location that can be easily accessed by community members. The form does not need to be extensive, simply a way to briefly describe a situation and what the issue is. It is also helpful to educate the community on how the complaint process works.
If a complaint is brought directly to a school board member, the proper procedure is to direct it to someone within the administration. Board members should not directly address complaints from community members.
Title IX
Title IX is a federal civil rights law that protects people from discrimination based on sex. Educational programs and activities that receive federal funds from the Department of Education must operate in a nondiscriminatory manner.
This year's updates will include new definitions to the current Title IX policy that cover sexual harassment. If a school has actual knowledge of sexual harassment that occurred within the school's education program or activity, they have an obligation to respond, said Caulfield.
There are distinctions between a Report or Allegation, and a Formal Complaint:
Report or Allegation – Regardless of source, a report or allegation constitutes actual knowledge, triggering District response obligations, which includes implementing supportive measures to an alleged victim or alleged perpetrator. these measures may include counseling, deadline extensions, schedule modification, contract restrictions, and a campus escort.
Formal Complaint – a document filed by the alleged victim, parent/guardian, or the Title IX Coordinator that alleges sexual harassment and requests an investigation into the allegation. This triggers the Grievance Process.
The new policy update provides a detailed outline of the Grievance Process districts need to adopt that includes investigation of formal complaints, determination of responsibility, and an opportunity for appeal.
Every district is required to have a trained Title IX Coordinator who is trained on:
The definition of sexual harassment
The scope of district's education program or activity
How to conduct an investigation and grievance process including hearings, appeals, and informal resolution as applicable
How to serve impartially.
In response to a participant question, Mr. Caulfield said that village police officers can become Title IX Coordinators if they have been trained to conduct investigations and have successfully completed the required training.
Another participant asked if is there wording in the new policy to educate everyone, including students, teachers, and community members, to understand sexual harassment situations and the process to report them. Caulfield responded that teachers receive training on sexual harassment and appropriate workplace behavior as part of their certification process, as do classified staff.
AASB also has a Professional Boundaries Policy and AR that address sexual abuse and harassment, and we're working with statewide entities to offer awareness training.
Click the button below to access the video recording,
slideshow, and other resources from this webinar.
---