Websites Compare District Broadband Speeds and Rates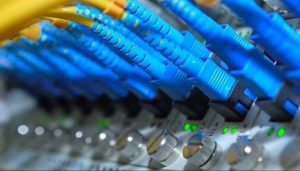 Broadband access is a key component of school modernization, yet accurate information on broadband speeds and rates statewide has been difficult to find. Here are two websites that can offer a clearer picture.
In conjunction with Connected Nation and its Alaska subsidiary Connect Alaska, AASB's Consortium for Digital Learning assisted with an audit of broadband availability in Alaska school districts during the 2014-15 school year. The information was provided primarily by IT Directors and other technical staff from each district and included physical site visits to 38 of our districts. The broadband audit results are posted on the Connect Alaska website at: http://akbroadbandaudit.org/
PLEASE NOTE: This Connect Alaska data has not yet been updated since it was collected, and some of the information has likely changed since then. It should be considered as a snapshot of district broadband availability in 2015.
Compare & Connect K-12 is a free website that allows comparison of broadband services among school districts nationally, was launched in November 2016 by the nonprofit Education Superhighway. The website uses data culled from district E-rate applications to calculate the cost and speed of each district's broadband connection. According to Education Superhighway CEO Evan Marwell, E-rate application data is verified with each district before it is published on the website.
About 13,500 national districts and 6,600 Internet Service Providers are represented on the site, including all 53 Alaska school districts.
Here's a link to the interactive map configured for Alaska.
Here's a search page for a closer look at any district nationally. Typing ", AK" into the search box returns a list of all Alaska district to select from.
Correlating the data presented on the Connect Alaska and Education Superhighway websites will provide the most up-to-date picture available of broadband connectivity in Alaska school districts.