What It Means to Be a School Board Member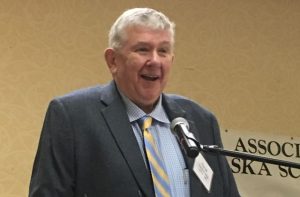 By Norm Wooten, AASB Executive Director
February has been designated School Board Recognition Month. Typically the Governor issues a proclamation declaring February as the month to recognize school boards for their service and during a school board meeting certificates of appreciation are presented to board members.
But perhaps its time to delve a little deeper into the significance of what it means to be a school board member. Over the past thirty years, I 've seen many citizens elected to the school board in communities throughout Alaska. And truthfully, many come with a special agenda. It may be dissatisfaction with a teacher, a coach, or the superintendent. It may be anger at the way a program is being administered or a curriculum adopted by the board. It may be that the district is investing too heavily in technology or not investing enough in technology. And as that citizen campaigns for election, they attract voters who agree with their agenda and often they are elected to the board and look forward to moving the district toward their respective agenda.
Once elected to the board, it's a rapid dose of reality to learn that things look much different from the "inside" than they did from the "outside." I've seen hundreds of newly elected board members begin moving from "special agenda oriented" toward "team agenda oriented." This is not an abandonment of their belief and passion but rather the attainment of board maturity. Working within the system means change from the inside and learning flexibility and the art of compromise. Newly elected school board members move from being "fixers" to governance officials. Officials whose first priority is to increase student achievement for every student in their district instead of a narrow special agenda.
School board members are the elected body most closely residing to the electorate. As a school board member it's almost impossible to go to the grocery store, or the post office, or the service station without being approached by a parent, grandparent, teacher or just an interested citizen with a problem or just interested in schools. Because you see, school board members govern the organization attended by our most valuable resource – our children.
Our school districts, no matter their size, are complex organizations, with a myriad of moving parts. They are about budgets, curriculum, strategic plans, facilities maintenance, legislative advocacy, policies, student safety, employee relations, and many more items. But every issue or challenge is examined with the question, "how will this affect students?"
School board members are the most caring individuals I've ever seen. They attend late meetings month after month. They use personal and vacation time to advocate for students. They attend athletic events, band concerts, school programs, open houses. They are cheerleaders for district students. End of school graduations are eagerly anticipated. They celebrate the successes of their graduates. As a former school board member, the thing that brought the most satisfaction to me was when our former students were elected to the school board. Isn't that what board members work for? The time when we can step aside and know that our efforts in delivering an educational experience have created citizens who are prepared to stand on our shoulders and make our schools even better.
School Board members, we on the staff of the Association of Alaska School Boards, salute you and on behalf of Alaska's public school children thank you for your work – not only during School Board Recognition Month – but throughout the years. You are making a difference.
# # #
AASB has compiled a downloadable packet of resources with everything you need to recognize school board members.