Zaretta's "Pump Me Up" Playlists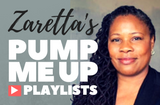 Zaretta Hammond
Following her keynote address to the AASB 64th Annual Conference, author and educator Zaretta Hammond devoted a portion of her sectional presentation to discussing the effects of music on the brain, and how music can be used effectively to engage students. She led a lively group activity in which she challenged attendees to develop playlists of their favorite songs in three categories:
Pump Me Up
Its Gonna Be Alright
Walking On Sunshine
Below are the song lists the groups came up with. Try them out in your school (or on yourself) and see what happens!
GROUP 1
PUMP ME UP
300 Violins
Bon Jovi (anything!)
Rolling Stones (anything!)
Up, Up, Up
Queen – We Will Rock You, We Are the Champions
ITS GONNA BE ALRIGHT
Taps
Tennessee Waltz
I Have a Dream
Bob Marley
WALKING ON SUNSHINE
Hey Good Lookin'
You Are My Sunshine

Katrina and the Waves

– Walking On Sunshine
Spinning Around
GROUP 2
PUMP ME UP
Pump Up The Jam
Ain't No Mountain High Enough
The Walrus Song
ITS GONNA BE ALRIGHT
Lean On Me
You've Got A Friend
Aarigaa
Chicken Soup With Rice
WALKING ON SUNSHINE
As
Sunshine
Alaska Flag Song (in Yup'ik)
GROUP 3
PUMP ME UP
Girl On Fire
Eye Of The Tiger
ITS GONNA BE ALRIGHT
Lean On Me
Here Comes The Sun
Jesus Loves Me
WALKING ON SUNSHINE
When Jesus Says Yes
I Got A Feeling
Hakuna Matata
GROUP 4
PUMP ME UP
We Are The Champions
Pumped Up Kicks
Fight Song
Multiplied
Stayin' Alive
Thunderstruck
ITS GONNA BE ALRIGHT
Up On The Rooftops
Things Change
On Eagle's Wings
By Your Side
Heart Songs
Flaming Star
WALKING ON SUNSHINE
You Are My Sunshine
Thrive
Happy
Footloose
Free Fallin'
"Any Blues"
GROUP 5
PUMP ME UP
Keep Your Head Up
Respect
My House
Can't Hold This
Girl On Fire
Girls Run The World
ITS GONNA BE ALRIGHT
Shake It Off
Sky Full Of Stars
Fight Song
Born This Way
Lean On Me
Adele – Water Under The Bridge
WALKING ON SUNSHINE
Uptown Funk
Can't Stop The Feelin'
Walking On Sunshine
KC And The Sunshine Band – Celebration
James Brown – I Feel Good
Oklahoma
GROUP 6
PUMP ME UP
Dead Girl
Walking (Reprise)
Meglovania
ITS GONNA BE ALRIGHT
History Maker
One For The Road
WALKING ON SUNSHINE
GROUP 7
PUMP ME UP
R. Kelly – I Believe I Can Fly
Eminem – Soldier
Survivor – Eye Of The Tiger
Gwichen – Indian Girl
A Tribe Called Red – Electric Pow Wow
Sister Sledge – We Are Family
Pick Me Up
Technotronic – Pump Up The Jam
Jimmy Fortune – Elizabeth
Yup'ik – Thank You Song
Yup'ik – Where's My Drum
ITS GONNA BE ALRIGHT
Gloria Gaynor – I Will Survive
Pink – What About Us
John Luther Adams (Seattle Symphony) – Become Ocean
Jimmy Fortune – I Believe
WALKING ON SUNSHINE
Michael Jones – On Eagle's Wings
Justin Bieber – Friends
Nu Shoez
Walking On Sunshine
GROUP 8
PUMP ME UP
Whip It
Crass
Abrasive
Latin Roots
Faith
ITS GONNA BE ALRIGHT
Don't Stop Believing
Buffalo Soldier
Better Place, Better Time
Fall Back Down
Lose Yourself
Auld Lang Syne
WALKING ON SUNSHINE
Best Day Of My Life
Lovely Day
Girl On Fire
I Love You
Santa Monica
GROUP 9
PUMP ME UP
Pitbull (featuring Christina Aguilera) – Feel This Moment
Shaun Mendes – There's Nothing Holding Me Back
ITS GONNA BE ALRIGHT
Lean On Me
Mahler – Adagio from Symphony #5
Rachel Platten – Fight Song
Ax Gagaanix Isitee – Ruth Demmert
WALKING ON SUNSHINE
Imagine Dragons – On Top Of The World
Audra Day – Rise Up
Calvin Harris – Feel So Close
GROUP 10
PUMP ME UP
Queen – We Will Rock You
AC/DC – Thunderstruck
Imagine Dragons – Thunder
ITS GONNA BE ALRIGHT
Bob Marley – Everything Gonna Be Alright
Gospel Music
Lumineers – Ho Hey
WALKING ON SUNSHINE
Andy Grammer – Good To Be Alive
Over The Rainbow
Louis Armstrong