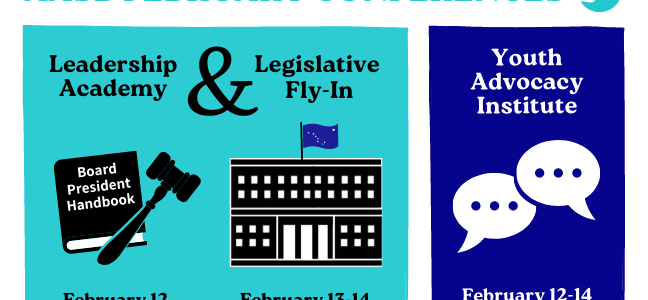 AASB February Conferences – Register Now!
Leadership Academy
& Legislative Fly-In
+
Youth Advocacy Institute,
---
Elizabeth Peratrovich Hall, Juneau,
February 12-14, 2022.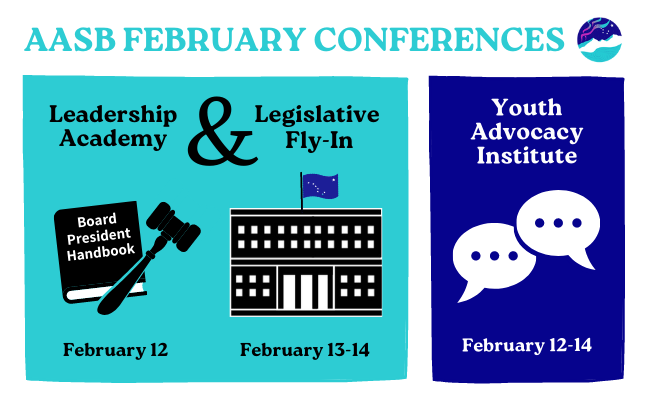 Registration
Leadership Academy & Legislative Fly-In
February 12-14, 2022
$510 per person for Leadership Academy & Legislative Fly-In
Due to circumstances beyond our control, the AASB Law & Policy Day – Education Funding: How Money Works that was scheduled for Saturday, February 12th has been postponed until April 28th. AASB will be moving forward with our usual Leadership Academy on February 12th.
We apologize for having to make this change in the agenda. We look forward to providing a more certain opportunity for a wide variety of participants that are linked to our public education system to have the opportunity to participate in an in-depth civil discourse about public education funding.
Event Details
Leadership Academy
Saturday, February 12
The day's focus:
School Board Members' Role in Leadership
This year's Leadership Academy Day is focused on aspects of leadership and practice for all school board members.
Commissioner Michael Johnson and school law attorney John Sedor will join other presenters for a full day of excellent boardsmanship training, and the rollout of the newly developed Board President Handbook.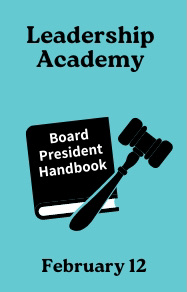 After the Leadership Academy, stay for the Legislative Fly-In!
Legislative Fly-In
Sunday, February 13 – Monday, February 14
Participants will:
Discuss and learn about key legislative issues influencing education this year.
Meet in like-size district forums to identify legislation that can be supported by AASB and develop talking points for legislative priorities.
Meet with legislators and other decision makers.
2022 AASB Legislative Priorities
We encourage in-person attendance for the attendee's greatest benefit. However, if you are unable to attend in person, a one-day virtual option is available. Please reach out to AASB at aasb@nullaasb.org for more information on this option.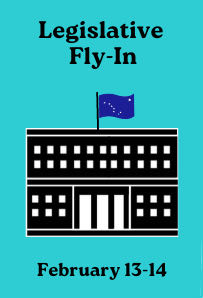 Youth Advocacy Institute (YAI)
Saturday, February 12 – Monday, February 14
---
YAI is designed for high school students, especially sophomores and juniors, who want to be immersed in the Alaska legislative process.
Participants will:
Learn how a bill becomes a law.
Discuss key legislative issues influencing education this year.
Participate in mock testimony, and advocate for legislation (alongside their school board) that affects them and their communities, all for public education.
For questions, more details on YAI, or agenda information, please reach out to Tyler Breen.
$320 per person
COVID-19 Safety Information
Registration requirements for AASB's February conferences will require one of the three items listed below:
Proof of a COVID vaccination (presentation of your actual vaccination card or a legible photo) or:
Proof of a negative COVID test (PCR) within three (3) days of the start of the AASB event or:
A health care provider's documentation that you have had COVID within the last 90-days and are free from symptoms, including no fever within 24 hours of fever-reducing medications, has been at least 10 days since symptoms first appeared, and are not contagious for the virus but may test positive. If you cannot produce the proof listed above, you will not be admitted until the documentation is provided to AASB staff.
In addition, all attendees are required to follow AASB's COVID-19 mitigation plan, which includes wearing a mask throughout the conference. You can review the mitigation plan here: AASB Covid Mitigation Plan.
---