Building Social Emotional Skills at School: Highlights from 3 Districts
Maressa Jensen, Social and Emotional Learning Coordinator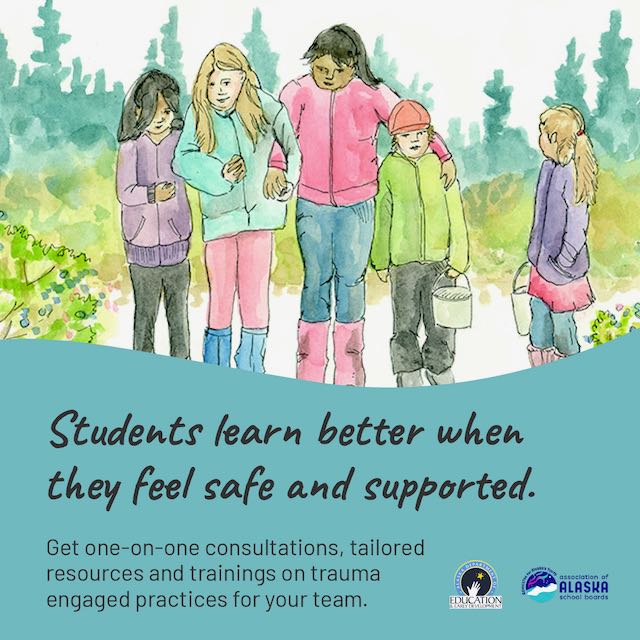 Strong relationships within schools and communities offer essential support for student success. Districts across the state are working with AASB's Conditions for Learning team to promote relationships in which staff, students, and families can enhance social emotional competency, build strong cultural identity, and develop a sense of belonging.
The impacts of this work are far-reaching. At a statewide workshop in November, designed to explore ways to improve Alaska's low rate of postsecondary completion, one of the group's top recommendations was embedding culturally affirming social and emotional learning in our schools.
The strategies used for strengthening relationships are as diverse and unique as our communities.
The Lower Yukon School district recently shared their wellness and mental health curriculum which is rooted in Yup'ik values and ways of learning. The curriculum offers activities and values for students to learn about who they are and how to become Strong Yup'ik people.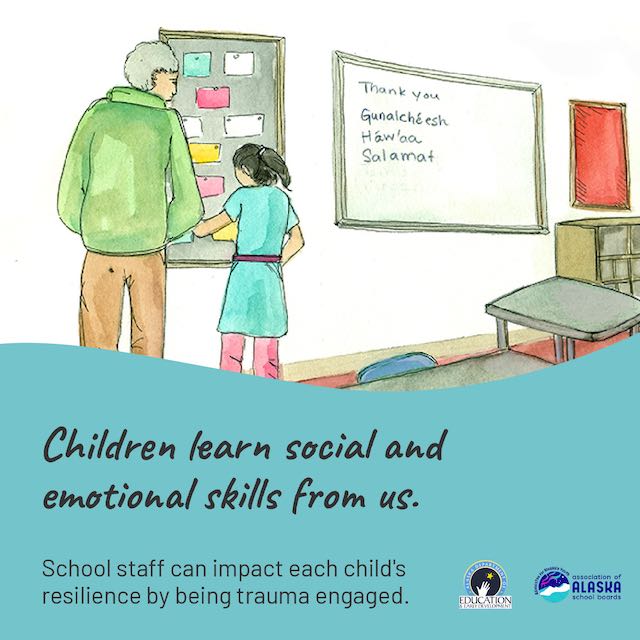 At Sayeik: Gastineau elementary school in Juneau, part of building strong relationships is creating intentional moments of joy as a school community. Every Friday they have an all-grades morning Sing-Along which families are invited to join. This consistent practice strengthens connections, engages families, and supports self-regulation through music.
During a fall inservice session with AASB team members Emily Ferry and Maressa Jensen, Yakutat staff used School Climate and Connectedness Survey data to identify a need to strengthen relationships in their building. One elementary staff member suggested an elementary morning assembly. The goal was to connect with everyone before the school day began. In just 10 minutes, they say the pledge together, learn a new Tlingit phrase and a new affirmation that is repeated each day for that week. They end the time with a "Just Dance" video, having fun trying to learn new moves. This 10-minute investment, ending with a playful moment of music and movement, builds positive relationships and helps everyone start the school day learning-ready.
How do you know if your strategies are successful?
A recent webinar as part of AASB's How Do You Know? series offered suggestions for districts who want to understand the impact of their trauma-engaged and social-emotional learning programs. Webinar recordings and slides can be found here.
Ready to dig in? Reach out!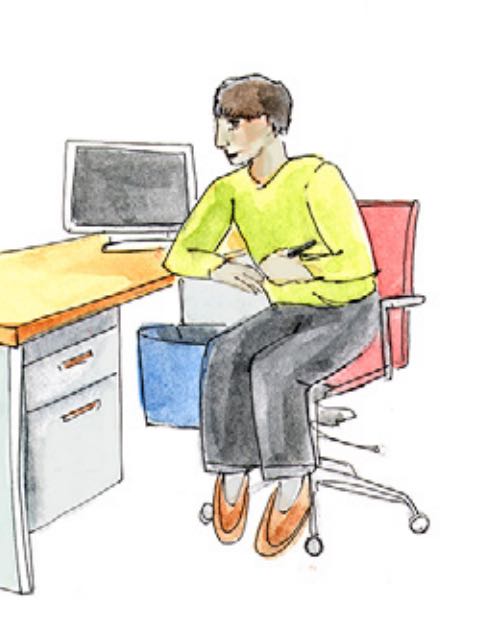 ---