CORONAVIRUS RESOURCES FOR DISTRICTS
Stay current on the latest COVID-19 developments in Alaska, and access parent and teacher resources here. AASB joins Alaskans in following the advice of state and national agencies in adopting practices to protect the health of our employees, customers, visitors, and the public, and prevent the spread of the COVID-19 virus by flattening the curve of transmission. Our Juneau office is now closed to visitors, and our staff is working remotely for the foreseeable future. To ensure the continuity of business operations during the pandemic, we have transitioned many of our operations online. AASB staff is available by email, phone, and teleconference during normal business hours. We will continue to monitor developments and provide updates through email, social media, and the aasb.org website. Stay safe.
---
Get the latest COVID-19 updates – Click logos below
---
Alaska Public Health Mandates
COVID-19 infections are continuing to spread across the country and Alaska. In an effort to protect the health of Alaskans by slowing the spread of the virus and preventing our health care system from being overwhelmed, a series of mandates have been issued by the governor and the Department of Health and Social Services.
Two recent mandates restrict intrastate travel and require remaining at your residence. To understand why it is critically important for Alaskans to follow these mandates, please read this Fact Sheet. See a list of all mandates here.
---
Interactive Map: Coronavirus spread and state precaution levels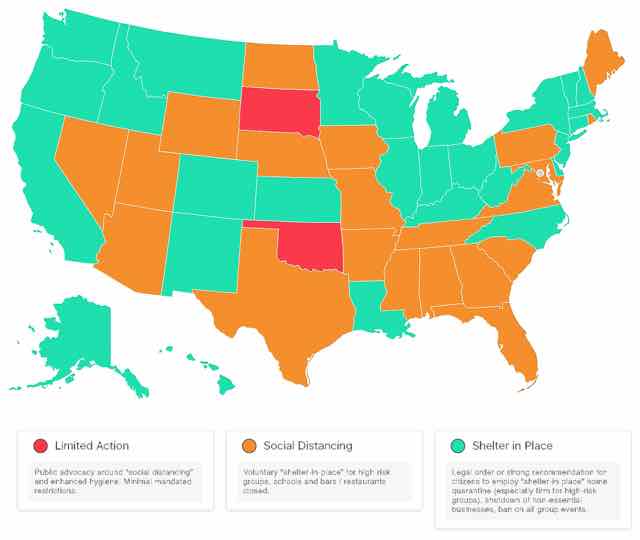 This map was developed by Representative Jonathan Kreiss-Tomkins and a team of engineers and designers to inform policymakers nationwide and frame the decisions political leaders must make. Map Link
---
Parent and Educator Resources
AASB Resources for Parents and Educators with Students at Home, organized by content area.
---
Virtual Meetings & Instruction
AASB WEBINAR: Holding Your Meeting Remotely – for School Boards
AASB WEBINAR: Tips for Engaging Learners From a Distance – for Educators
Jurassic Parliament – Consent agenda: great tool for speedier meetings
Work Session and Committee Public Comment
Alaska Staff Development Network – short, free webinars for PK-12 teachers on moving the classroom online
Zoom Videoconferencing – Now FREE for K-12 Schools – Fill Out Form Here
How to Use Zoom – Free Video Conferencing & Virtual Meetings]\
"Zoombombing" – How to Keep the Party Crashers from Crashing Your Zoom Event
---
Internet Service Providers
ACS – Free internet for new customers until the end of the school year.
ASTAC – Arctic Slope Telephone Association Cooperative Relief Credit – Free internet usage for the month of April.
GCI – Free Internet through May 31 – for Households Without GCI Internet and Current Customers
KPU Telecommunications in Ketchikan – increase residential fiber customers speeds, no overages on any internet plan for residential or business.
MTA – Matanuska Telephone Association eLearning Enablement – Free temporary upgraded service.
---
Alaska Coronavirus Newsfeed
AASB summary of Alaska coronavirus media coverage, updated daily.
---
Coronavirus Public Health Information
These resources are updated as information becomes available.
DAILY PRESS BRIEFINGS – Governor Dunleavy, Dr. Anne Zink, public health officials, and the incident management team give daily updates on the COVID-19 outbreak in Alaska. Videos are posted here.
SUBSCRIBE HERE to receive Press Releases and Newsletters by email or text from the Alaska Department of Health and Social Services.
March 17, 2020 presentation to the Alaska Legislature: "Emergency Response to COVID-19" given to House State Affairs Committee by Nirav Shah, Senior Scholar at Stanford Medical Center and Tomas Pueyo, Modeler and Mathematician:
Alaska DHSS – COVID-19 Situation Overview
Alaska DHSS – COVID-19 HEALTH ALERT – Dr. Anne Zink, State Chief Medical Officer, March 15, 2020
DEED – Prevent and prepare for COVID-19
DEED – AKLearns – Teaching & Learning Support
Office of the Governor – COVID 19 News and Video
CDC – Schools, Workplaces & Community Locations
CDC – Cases and Latest Updates
WHO – Coronavirus – Protect Yourself, Q&A, Situation Reports
---
Education Partners
Alaska Council of School Administrators – COVID-19 Response Resources for Alaskan School Districts
Alaska Staff Development Network – Professional Development Resources for Alaskan Educators During COVID-19
Alaska Municipal League – Coronavirus Resources for Communities
NSBA – Responding to the Coronavirus
NSBA – COVID-19: Preparing For Widespread Illness in Your School Community – A Legal Guide for School Leaders