Coronavirus Resources for Districts

A summary of Alaska COVID-19 developments in Alaska as they unfolded during the final semester of the 2019-20 school year, from March-May 2020. AASB joins Alaskans in following the advice of state and national agencies in adopting practices to protect the health of our employees, customers, visitors, and the public, and prevent the spread of the COVID-19 virus by flattening the curve of transmission.
PLEASE NOTE: Our Juneau office is now closed to visitors, and our staff is working remotely for the foreseeable future. To ensure the continuity of business operations during the pandemic, we have transitioned many of our operations online. AASB staff is available by email, phone, and teleconference during normal business hours. We will continue to monitor developments and provide updates through email, social media, and the aasb.org website. Stay safe.
Alaska plans to take applications for small-business aid
The state of Alaska will begin taking applications for a $290 million small-business grant program as soon as Tuesday, May 26, the directors of the Alaska Industrial Development and Export Authority has confirmed. "The intent is to provide funding from this program for businesses of 50 employees and less and nonprofits," said Julie Anderson, commissioner of the Alaska Department of Commerce, AIDEA's parent agency. AIDEA expects between 5,000 and 7,000 Alaska businesses or nonprofits will receive grants as large as $100,000 apiece. Twenty percent of the $290 million has been reserved for rural businesses, those in communities with 5,000 or fewer residents.
---
Survey reveals Alaska children are playing less during the pandemic, which is concerning for their physical and mental health Program
Alaska kids are now getting less physical activity and more non-academic screen time than they did before the COVID-19 pandemic began. That's what nearly 750 parents across Alaska said when filling out a recent survey from the Department of Health and Social Services (DHSS). Parents from every region of the state responded, but about 70% of them were from Anchorage, the Mat-Su Borough or Fairbanks area. More Information | Survey Results
---
Secretary DeVos Announces New Grant Competition for School Districts to Launch Student-Centered Funding Program
U.S. Secretary of Education DeVos has announced a $3 million grant competition that will give school districts the opportunity to launch student-centered funding programs. The competition, authorized by the Every Student Succeeds Act (ESSA), will allow up to 50 school districts to combine eligible federal funds with state and local funds in order to allocate resources based on students' individual needs.
---
DEED, DHSS Develop 'Restart and Reentry' Guidance Framework for the 2020-2021 School Year
In partnership with the Department of Health and Social Services (DHSS), the Department of Education and Early Development (DEED) has developed Alaska's 'Smart Start 2020' for K-12 Schools, a framework for Alaska's districts and schools to use to plan for the restart of school for the 2020-2021 school year. This framework will define and establish the parameters for how schools can safely operate in a low, medium, and high risk environment. Download Guidance Framework
DHSS Issues Protocols for Childcare and Summer Day Camps
As part of the Governor's 5 phase plan to reopen Alaska's economy, the Alaska Department of Health and Social Services has issued Phase 2 guidelines for the operation of childcare and summer day camps. The guidelines address operational requirements such as social distancing, capacity, hygiene protocols, staffing, cleaning, and disinfecting.
Childcare and Day Camp Guidelines
Guidance Documents for Various Types of Businesses and Activities
UAF eCampus offers dual enrollment classes at half price for students in participating districts
Through the Advantage program, students can earncredits that are accepted at UAF but can also be transferred to other institutions of higher education. Students enrolled in one of the following school districts you are eligible for eCampus Advantage special pricing:
Information | Summer Registration | Fall Registration
ACT, SAT and WorkKeys Testing Requirement Waived for Class of 2020
For the graduating class of 2020, the State of Alaska is waiving the ACT and SAT requirement for Alaska Performance Scholarship (APS) eligibility this year, and GPA will be the determinant of the award level. The requirement is waived due to the ACT and SAT test cancellations. Details of this waiver and any other changes to APS policies will be available on the APS website at APS.alaska.gov. Sign up here to directly receive notifications. Press Release
DHSS Survey: Alaska's parents share concerns about how the COVID-19 pandemic is affecting their families
Nearly 2,000 Alaska parents responded to a survey by the Alaska Department of Health and Social Services to find out how the pandemic is impacting the lives of Alaska families with children.
The survey focused on the impacts of the pandemic on physical activity, nutrition, health insurance and access to prescriptions. Survey Results Summary
State Temporarily Suspends Teacher Certification Requirements
Governor Dunleavy, under Order of Suspension No. 2, has suspended statutory and regulatory requirements that have become barriers for educators to gain or maintain Alaska certification and for districts to focus on the continuation of educational services to their students. More Information
Graduation Ceremony Guidelines
The Alaska Department of Education and Early Development, with approval from the Alaska Department of Health and Social Services, has released guidelines for school districts' consideration regarding conducting graduation ceremonies during the COVID-19 pandemic.
Free 'Professional Boundaries' Policy
AASB and APEI have treamed up to offer a 'Professional Boundaries' policy designed to protect students from inappropriate adult behaviors. The policy is free to all districts, not just those subscribing to AASB's Policy Update Service or insured by APEI. Download Policy
Funding Opportunities
NEW Secretary DeVos Announces New Grant Competition for School Districts to Launch Student-Centered Funding Program
Small, Rural School Achievement Program Application and Performance Period Extensions
Education Innovation and Research Program Mid-Phase Grants
Supporting Effective Educator Development (SEED) program
Extended Application Deadline for Office of Indian Education Formula Grant
Secretary DeVos Launches New Grant Competition to Spark Student-Centered, Agile Learning Opportunities to Support Recovery from National Emergency
Senator Dan Sullivan – Summary of CARES Act legislation
Governor Dunleavy Submits Revised CARES Act Funding Distribution Plan
Secretary DeVos Makes Available Over $13 Billion in Emergency Coronavirus Relief to Support Continued Education for K-12 Students
U.S. Department of Education: $3 Billion in Emergency Education Block Grants
U.S. Department of Education Authorizes New Funding Flexibilities to Support Continued Learning During COVID-19 National Emergency
USDOE Education Almanac April 2020: Rural education updates – Federal Aid, grants, incentive programs
USDA Rural Development Grant Opportunity: Community Facilities Technical Assistance and Training
USDA Rural Development Grant Opportunity: Community Facilities Technical Assistance and Training Grant: Supplemental 2019 Disaster Relief Act Funding
Alaska Community Foundation COVID-19 Response Fund Rapid Response Grants
---
Legal Issues
WEBINAR: Q&A around legal questions pertaining to COVID-19 and schools with DEED Commissioner Michael Johnson and Attorney John Sedor.
---
DHSS Alaska Coronavirus Response Hub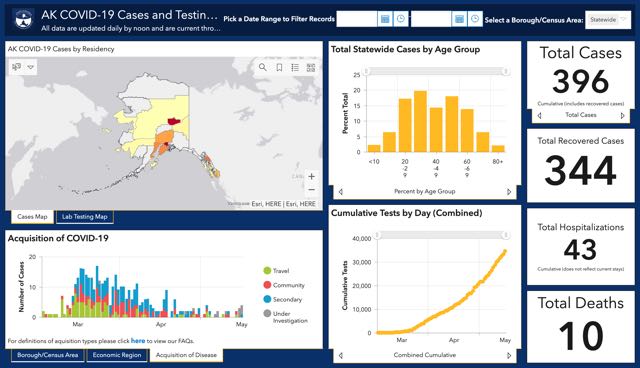 The AK COVID-19 Dashboard provides information, maps and resources about the coronavirus response in your local area. All data are updated daily at noon.
---
States That Asked First Got the
Most Coronavirus Disaster Relief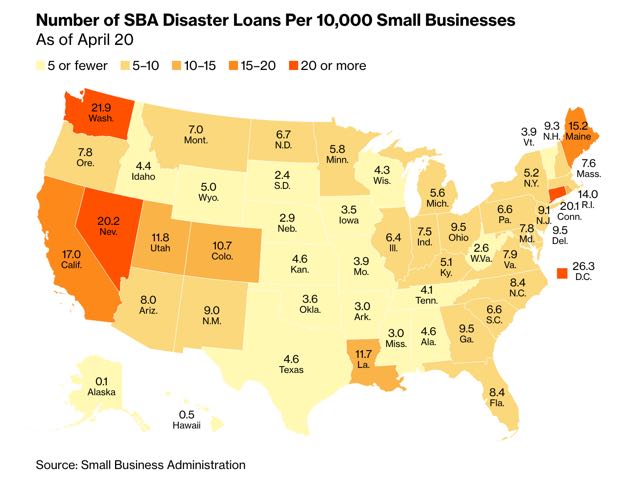 States that acted swiftly to request coronavirus relief last month are getting an outsize share of small-business disaster loans compared with those that waited just a day or two longer to make the call. View Data
---
National District Responses to COVID-19 School Closures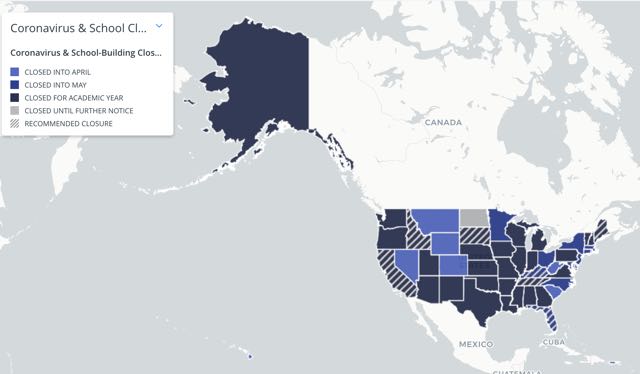 More than 100,000 public schools across the country have closed in response to the COVID-19 pandemic. Many are expected to remain closed for weeks, and in some cases, for the remainder of the 2019-2020 school year. This project will track how districts shift instruction, student support, and organizational operations. View Database
---
Interactive Map: Coronavirus Spread and State Precaution Levels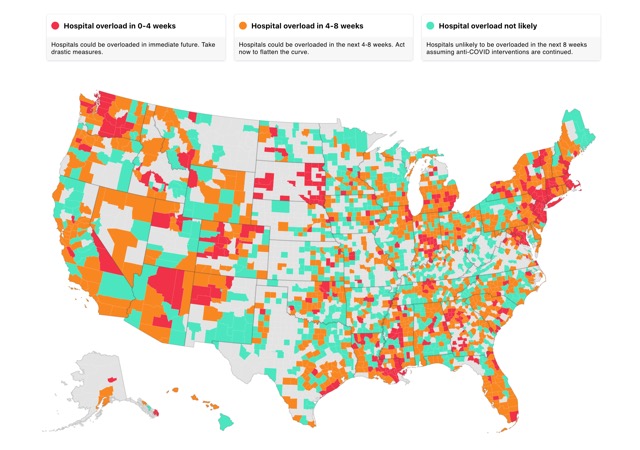 This map was developed by Representative Jonathan Kreiss-Tomkins and a team of engineers and designers to inform policymakers nationwide and frame the decisions political leaders must make. Map Link
---
Get COVID-19 Public Health Updates – Click logos below
---
Alaska Public Health Mandates
COVID-19 infections are continuing to spread across the country and Alaska. In an effort to protect the health of Alaskans by slowing the spread of the virus and preventing our health care system from being overwhelmed, a series of mandates have been issued by the governor and the Department of Health and Social Services.
Two recent mandates restrict intrastate travel and require remaining at your residence. To understand why it is critically important for Alaskans to follow these mandates, please read this Fact Sheet.
---
Resources for Parents and Educators with Students at Home
NEW: AASB Resources for Parents and Educators with Students at Home, organized by content area. These resources are updated frequently.
Information and free tutoring for families during COVID-19 school closures, including a free Parent Hotline.
---
Webinars & Virtual Meeting Resources
NEW: 2020 AASB Policy Updates Webinar | Audio
NSBA WEBINAR: Take Action to Make Your School Safer: The Administrator's Role
NSBA WEBINAR: Take Action to Make Your School Safer: The SRO & Law Enforcement Role
Jurassic Parliament webinar – Your School Board Meetings: How are they going?
Zoom Security Protocols – Follow these guidelines to keep your meetings safe and protect student privacy
Distance Learning Tips and Tools – This handy online guide can help novices and pros alike to navigate the Zoom ecosystem.
AASB WEBINAR: Holding Your Meeting Remotely – for School Boards
AASB WEBINAR: Teaching From a Distance – for Educators
Jurassic Parliament – Consent agenda: great tool for speedier meetings
Work Session and Committee Public Comment
Four Core Priorities for Trauma-Informed Distance Learning
Alaska Staff Development Network – short, free webinars for PK-12 teachers on moving the classroom online
Zoom Videoconferencing – Now FREE for K-12 Schools – Fill Out Form Here
How to Use Zoom – Free Video Conferencing & Virtual Meetings]\
"Zoombombing" – How to Keep the Party Crashers from Crashing Your Zoom Event
Zoom Fatigue: Don't Let Video Meetings Zap Your Energy
---
Internet Service Providers
REMINDER: Free GCI Internet Upgrades Thru May 31 In response to COVID-19, many Alaskans are working from home, adopting new social-distancing behaviors and managing students who are home from school due to closures. To support this new way of living and doing business, GCI is offering special packages to support Alaskans' expanding need for connectivity at home. More Info
ACS Provides Free Pubic Access WiFi at Ten Anchorage and Fairbanks Schools, looking for other locations in the state. More Information
ACS – Free internet for new customers until the end of the school year.
ASTAC – Arctic Slope Telephone Association Cooperative Relief Credit – Free internet usage for the month of April.
GCI – Free Internet through May 31 – for Households Without GCI Internet and Current Customers
KPU Telecommunications in Ketchikan – increase residential fiber customers speeds, no overages on any internet plan for residential or business.
MTA – Matanuska Telephone Association eLearning Enablement – Free temporary upgraded service.
Federal Communications Commission (FCC) – Any federally recognized Tribe or Alaska Native Village may apply for a 2.5 GHz Rural Tribal Window.
---
Alaska Coronavirus Newsfeed
NEW: AASB summary of Alaska coronavirus media coverage, updated daily.
---
Additional Coronavirus Public Health Information
These resources are updated as information becomes available.
DAILY PRESS BRIEFINGS – Governor Dunleavy, Dr. Anne Zink, public health officials, and the incident management team give daily updates on the COVID-19 outbreak in Alaska. Videos are posted here.
SUBSCRIBE HERE to receive Press Releases and Newsletters by email or text from the Alaska Department of Health and Social Services.
March 17, 2020 presentation to the Alaska Legislature: "Emergency Response to COVID-19" given to House State Affairs Committee by Nirav Shah, Senior Scholar at Stanford Medical Center and Tomas Pueyo, Modeler and Mathematician:
Alaska DHSS – COVID-19 Situation Overview
Alaska DHSS – COVID-19 HEALTH ALERT – Dr. Anne Zink, State Chief Medical Officer, March 15, 2020
DEED – Prevent and prepare for COVID-19
DEED – AKLearns – Teaching & Learning Support
Office of the Governor – COVID 19 News and Video
CDC – Schools, Workplaces & Community Locations
CDC – Cases and Latest Updates
WHO – Coronavirus – Protect Yourself, Q&A, Situation Reports
---
Education Partners
Alaska Council of School Administrators – COVID-19 Response Resources for Alaskan School Districts
Alaska Staff Development Network – Professional Development Resources for Alaskan Educators During COVID-19
Alaska Municipal League – Coronavirus Resources for Communities
NSBA – Responding to the Coronavirus
NSBA – COVID-19: Preparing For Widespread Illness in Your School Community – A Legal Guide for School Leaders