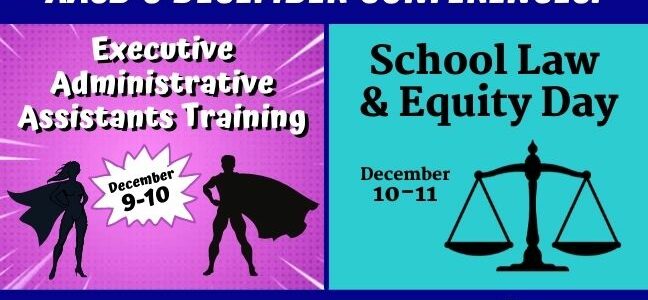 Registration is now open for AASB's December Conferences!
AASB is offering these conferences during the month of December:
Executive Administrative Assistants Training, Dec. 9-10
School Law & Equity Day, Dec 10-11
Plan to attend these informative events! Descriptions and registration links are below.
COVID-19 INFORMATION
Registration requirements for AASB's School Law & Equity Day and Executive Administrative Assistants Training conferences will require one of the three items listed below:
Proof of a COVID vaccination (presentation of your actual vaccination card or a legible photo) or:
Proof of a negative COVID test (PCR) within three (3) days of the start of the AASB event or:
A health care provider's documentation that you have had COVID within the last 90-days and are free from symptoms, including no fever within 24 hours of fever-reducing medications, has been at least 10 days since symptoms first appeared, and are not contagious for the virus but may test positive. If you cannot produce the proof listed above, you will not be admitted until the documentation is provided to AASB staff.
In addition, all attendees are required to follow AASB's COVID-19 mitigation plan, which includes wearing a mask throughout the conference.
Executive Administrative Assistants Training – December 9-10
This training is an opportunity for Executive Administrative Asisstants to connect and share ideas with colleagues from around the state.
Topics include:
Role of Board Secretary
Onboarding New School Board Members
Taking Minutes
Robert's Rules of Order
New Laws & Regulations, and more!
Registration is now open. Fee: $400 per person.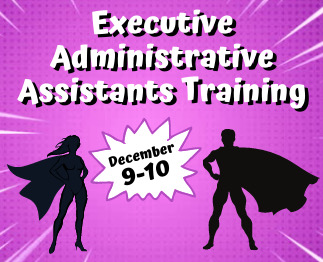 School Law & Equity Day – December 10-11
This year's School Law Day is focused on A Free and Ordered Space
Schools – possibly more than any other public or private entities – embody this tension between freedom and order. Schools bring together an incredibly diverse group of people each of whom want and expect the freedom to express themselves. On the other hand, schools must have sufficient order in the school community to be able to effectively and successfully deliver the level of education the next generation requires and deserves. This is a tall order made only more difficult over the last few years by the pandemic, societal discord, social media, and political polarization.
School Law Day topics include:
The Free and Ordered Space for District Staff and Virtual Communications Outside the School House Gates- Monica Southworth
Student Freedom and Its Impact on School Order and the Delivery of Quality Education. Luke Almon, Anchorage School District
Freedom to Interact and Boundaries that Cannot Be Crossed- Clint Campion
A Free and Ordered School Board Meeting In Two Parts: (1) Public Comment and (2) Disciplining Board Member Who Overstep Their Bounds- John Sedor
A Free and Ordered Space in the Board/Superintendent Relationship
This year's Equity Day is focused on "Reaching Every Student." Topics include:
Equity and Policy
Teacher Retention
Superintendent Evaluations, and more!
Registration is now open. Fee: $400 per person.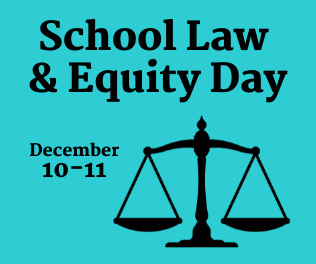 ---