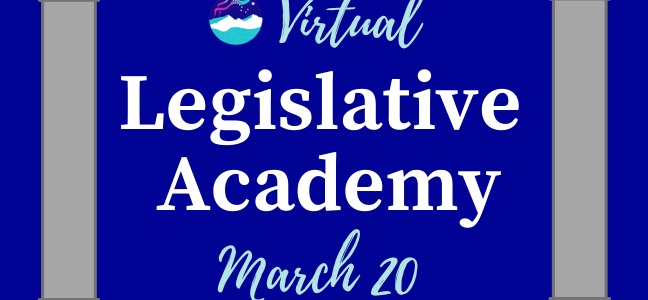 2021 Virtual Legislative Academy – Resources & Video
Connect with statewide education colleagues to sharpen advocacy skills, get updates on legislative session developments, and meet with legislators to address the challenges districts face.
Slideshows and other public resources from the conference are posted in the Event Schedule section below.
---
Session video recordings can be accessed by registered attendees by clicking on the button below and entering the event password.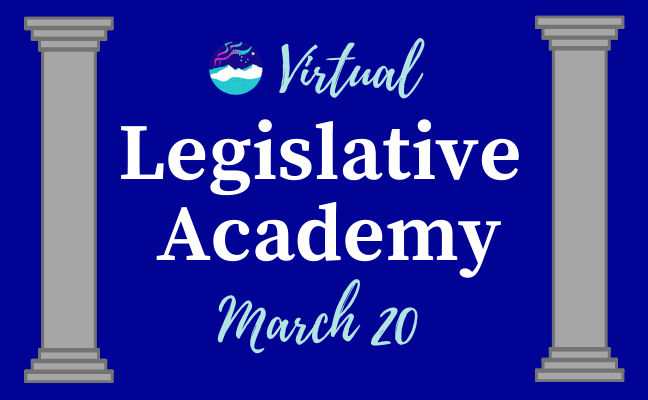 Resource Links
List of bills from Norm's Bill Review Presentation
AASB 2021 Legislative Talking Points
AASB 2021 Legislative Priorities List
Like Size District Discussion Forum List
Top Priorities from District Forums
Event Schedule
8:15 am – Welcome & Introductions
8:30 – 9:45 am – Legislative Context / What is Currently Driving the Legislature – Norm Wooten – Slides
9:00 – 9:45 am – Legislative Priorities & Bill Review – Norm Wooten – Slides
9:45 – 10:00 am – Break
10:00 – 10:45 am – Advocacy Focus mini-sessions:
Advocacy in an Urban Setting – Deena Mitchell, Anchorage School District – Invitation | Flier | Buddy Assignments
Advocacy in a Rural Setting – Marie Greene, Northwest Arctic School District
Advocacy on a Federal Level – Margo Bellamy, Anchorage School District – Slides
10:40 – 11:30 am – Like Size District Forums
11:30 am – 12:30 pm – Coming Back Together – Share out, prepare for meetings with legislators
Legislative Meetings Schedule
Monday, March 22, 9:00 am
SENATORS: Sen Kiehl
REPRESENTATIVES: Rep. Hannon, Story
DISTRICTS: Haines, Juneau, Skagway
CONTACT EMAILS: Senator.Jesse.Kiehl@nullakleg.gov, Representative.Andi.Story@nullakleg.gov, Representative.Sara.Hannan@nullakleg.gov
Monday, March 22, 2:00 pm
SENATORS: Sen, Bishop, Kawasaki, Meyers
REPRESENTATIVES: Rep. Cronk, Hopkins, LeBon, Prax, Thompson, ,Wool
DISTRICTS: Alaska Gateway, Denali, Nenana, Tanana, Yukon Flats, Fairbanks
CONTACT EMAILS: Senator.Click.Bishop@nullakleg.gov, Senator.Scott.Kawasaki@nullakleg.gov, Senator.Robert.Myers@nullakleg.gov, Representative.Mike.Cronk@nullakleg.gov, Representative.Grier.Hopkins@nullakleg.gov, Representative.Bart.LeBon@nullakleg.gov, Representative.Mike.Prax@nullakleg.gov, Representative.Steve.Thompson@nullakleg.gov, Representative.Grier.Hopkins@nullakleg.gov, Representative.Adam.Wool@nullakleg.gov
Tuesday, March 23, 2:00 pm
SENATORS: Sen. Stevens, Micciche, Shower
REPRESENTATIVES: Rep. Stutes, Carpenter, Gilham, Vance, Rauscher
DISTRICTS: Cordova, Kodiak, Yakutat, Kenai, Chugach, Copper River, Delta-Greely
CONTACT EMAILS: Senator.Gary.Stevens@nullakleg.gov, Senator.Peter.Micciche@nullakleg.gov, Senator.Mike.Shower@nullakleg.gov, Representative.George.Rauscher@nullakleg.gov, Representative.Louise.Stutes@nullakleg.gov, Representative.Ben.Carpenter@nullakleg.gov, Representative.Ronald.Gillham@nullakleg.gov, Representative.Sarah.Vance@nullakleg.gov
Wednesday, March 24, 9:00 am
SENATORS: Sen. Reinbold, Costello, Wellechowski, Revak
REPRESENTATIVES: Rep. McCarty, Sponholtz, Rasmussen, Claman, Merrick, Drummond, Tuck
DISTRICTS: Anchorage
CONTACT EMAILS: Senator.Lora.Reinbold@nullakleg.gov, Senator.Mia.Costello@nullakleg.gov, Senator.Bill.Wielechowski@nullakleg.gov, Senator.Josh.Revak@nullakleg.gov, Representative.Kelly.Merrick@nullakleg.gov, Representative.Harriet.Drummond@nullakleg.gov, Representative.David.Nelson@nullakleg.gov, Representative.Chris.Tuck@nullakleg.gov, Representative.Ken.McCarty@nullakleg.gov, Representative.Sara.Rasmussen@nullakleg.gov, Representative.Matt.Claman@nullakleg.gov
Wednesday, March 24, 2:00 pm
SENATORS: Sen. Begich, von Imhoff, Gray-Jackson, Holland
REPRESENTATIVES: Rep. Tarr, Shaw, Snyder, Kaufman, Josephson, Schrage, Fields, McKay
DISTRICTS: Anchorage
CONTACT EMAILS: Senator.Tom.Begich@nullakleg.gov, Senator.Natasha.vonImhof@nullakleg.gov, Senator.Elvi.Gray-Jackson@nullakleg.gov, Senator.Roger.Holland@nullakleg.gov, Representative.Andy.Josephson@nullakleg.gov, Representative.Calvin.Schrage@nullakleg.gov, Representative.Zack.Fields@nullakleg.gov, Representative.Tom.McKay@nullakleg.gov, Representative.Geran.Tarr@nullakleg.gov, Representative.Laddie.Shaw@nullakleg.gov, Representative.Liz.Snyder@nullakleg.gov, Representative.James.Kaufman@nullakleg.gov
Thursday, March 25, 2:00 pm
SENATORS: Sen. Hoffman, Sen. Olson
REPRESENTATIVES: Rep. Edgmon, Foster, Zulkosky, Patkotak
DISTRICTS: Aleutians East, Bristol Bay, Dillingham, Iditarod, Kuspuk, Lake & Pen, LKSD, SW Region, Bering Strait, Galena, Kashunamuit, LYSD, Nome, North Slope, NW Arctic, St. Mary's, Unalaska, Yukon-Koyukuk, Yupiit, Priblof
CONTACT EMAILS: Senator.Lyman.Hoffman@nullakleg.gov, Senator.Donny.Olson@nullakleg.gov, Representative.Bryce.Edgmon@nullakleg.gov, Representative.Neal.Foster@nullakleg.gov, Representative.Tiffany.Zulkosky@nullakleg.gov, Representative.Josiah.Patkotak@nullakleg.gov
Thursday, March 25, 4:00 pm
SENATORS Sen. Stedman
REPRESENTATIVES: Rep. Kreiss-Tomkins, Ortiz
DISTRICTS: Annette Island, Chatham, Craig, Hoonah, Hydaburg, Kake, Ketchikan, Klawock, Pelican, Petersburg, Sitka, SE Island, Wrangell
CONTACT EMAILS: Senator.Bert.Stedman@nullakleg.gov, Representative.Jonathan.Kreiss-Tomkins@nullakleg.gov, Representative.Dan.Ortiz@nullakleg.gov
---