AASB Fall Boardsmanship Focused on Teacher Recruitment, Post-Secondary Opportunities. Coming Soon: Annual Conference!
Jenni Lefing, AASB Membership Services Manager

AASB held its Fall Boardsmanship Academy on September 17-18 in Fairbanks. School board members came together to increase their knowledge around issues impacting students, improve boardsmanship skills, and connect with members from across the state.
Connections & Celebrations
Saturday's focus was on reconnecting and learning from each other. The day began with board members reflecting on the beginning of the school year, and what their district has to celebrate that is working right now.
Celebrations districts shared included:
Partnerships, including with the borough (Northwest Arctic Borough)
Summer School, Subsistence Calendar (Yupiit)
Only have three staff vacancies (Bering Strait)
Sites had community potlucks, ice cream socials (Bering Strait)
Attendance (North Slope)
Maintenance catch-up for safe environments (Fairbanks)
DEED Priorities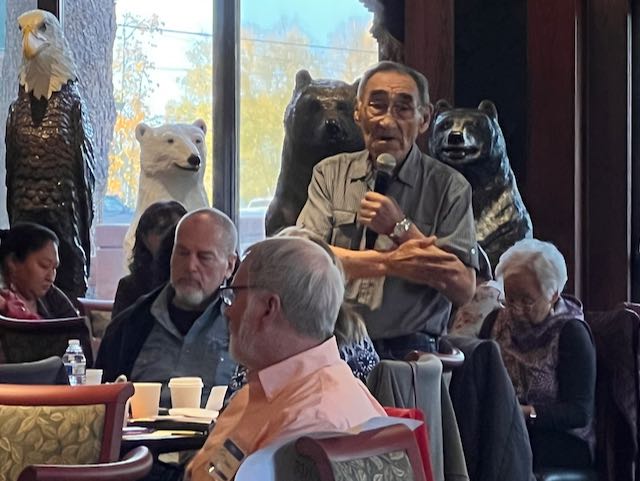 After district sharing, Kelly Manning, Deputy Director of Innovation and Education Excellence at the Alaska Department of Education and Early Development (DEED), reviewed the department's 2022-2023 priorities:
Strategic Reading Plan and AK Reads Act
School Improvement
Tribal Compacting
Assessment Literacy
Teacher Recruitment and Retention
Assessing the Assessments
Elizabeth Greninger, Assessments Administrator for DEED, followed up with a presentation on Alaska's assessment system. It included a review of all required assessments, including:
Alaska Science Assessment (grade 5, 8, 10);
NAEP (grade 4,8, 12);
Alaska Developmental Profile for kindergarten students,
WIDA- Assessments for English Learners, and
AK STAR (Alaska System of Academic Readiness for grades 3-9.
Ms. Greninger explained that AK STAR is a new approach to balanced assessment to better reflect learning throughout the school year and help educators target instruction more efficiently to students' individual needs. AK STAR connects MAPS assessments with Spring summative assessments.
Teacher Recruitment & Retention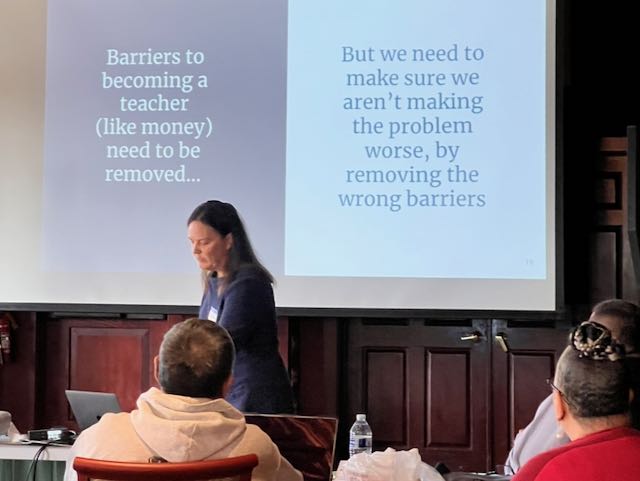 The afternoon focused on teacher recruitment and retention, which has long been a critical issue for Alaska and more so now with the national shortage.
Dr. Barbara Adams shared updates from The Governors Working Group, whose purpose has been to "review the root causes of Alaska's teacher retention and recruitment issues and propose solutions to better attract and retain great teachers."
She shared information on the four implementation subcommittees formed following the 2021 Action Plan recommendations:
Organizational Health Care
Alternative Certification Team
Recruitment Task Force
Retirement Working Group.
Details on each committee can be found at https://aklearns.org/trr/.
Dr. Amy Vinlove, Director of UAF School of Education & Chair of the Alaska College of Education Consortium, then shared what UAF is doing to prepare teachers in Alaska:
Offering every program via distance delivery to any community in Alaska
Providing multiple pathways for students to become teachers
K-12 outreach programs working with school districts to advance Alaska's teaching profession, such as Educators Rising, which encourages Alaska Native students to pursue teaching
Alaska Teacher Placement Program
Alaska Statewide Mentor Project
Board Roles & Strategic Planning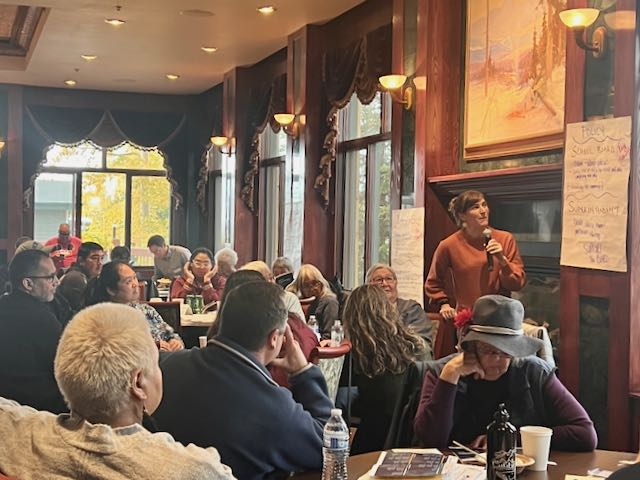 Sunday's sessions included a review of the revised Roles & Responsibilities for School Board & Superintendents handbook. Timi Tullis followed up with a presentation on strategic planning, and Emily Ferry led a session on how districts can support students navigating postsecondary opportunities.
Postsecondary Opportunities
Ms. Ferry opened her session titled, "If your students don't know where they are headed, how will they get there?" with an overview of the Bridging Framework to help transition students from middle school through high school and on to postsecondary opportunities. This framework is different as it is a "holistic, systemic, and culturally relevant approach that builds on the collective strengths of students, families, school staff, and community and tribal partners to foster identity development, academic readiness, and navigation skills."
School Districts then shared innovative ideas and common concerns around supporting students in transitioning to postsecondary opportunities.
Coming Soon – AASB's 69th Annual Conference!
The conversations that began at Fall Boardsmanship will continue at Annual Conference through Janelle Vanasse's keynote address on Saturday and breakout sessions. I invite you to join your colleagues from across Alaska to further explore these and many other topics at AASB's Annual Conference, November 3-6, in Anchorage.
Visit the AASB Annual Conference page for information and event registration.
Visit the Fall Boardsmanship Resources page to access session slides and other materials from the presentations.
---