"I always feel like somebody's watching me"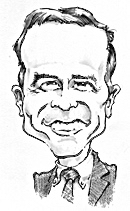 By Clint Campion of Sedor, Wendlandt, Evans & Filippi, LLC
Part six of a series on Technology and the Law.
As the famous prophet Rockwell sang, "I always feel like somebody's watching me…tell me is it just a dream?"
With the increased installation of security cameras in our society, it is not just a dream. It really does feel like somebody's watching us everywhere we go. Security cameras enhance our safety and security, but they result in a lot less privacy. Security cameras are watching us at the airport, at the store, at the bank, at work, at the hospital, and increasingly, at schools.
During the 2015-16 school year, the National Center for Education Statistics reported that more than eighty percent (81%) of public schools used security cameras. That percentage is undoubtedly rising. Security cameras provide districts with the ability to monitor school grounds and activities which deters bullying, crime, and school violence. Security cameras provide critical evidence of serious incidents and have become a key element in schools' safety and security plan.
While security cameras contribute positively to school safety, they create legal and practical considerations that districts must consider.
Districts must consider where security cameras should be installed on school grounds. Installation of security cameras is appropriate for common or public areas such as hallways, entrances, cafeterias, gymnasiums. Installation of security cameras is not appropriate for restrooms or other places where students or staff have a heightened expectation of privacy.
Districts must also ensure that installation of security cameras does not interfere with employee's rights. For example, security cameras should not video record district employees engaging in union activities because it could be a violation of the National Labor Relations Act.
Installation of security cameras in classrooms create potential issues under the Family Educational Rights and Privacy Act (FERPA). FERPA does not expressly permit or prohibit video recording in classrooms but, if a video recording becomes part of a student's education records then FERPA would apply. For example, if a security camera video recording is evidence used in support of a disciplinary action against a student, then it would be covered by FERPA. Under FERPA, a district may not disclose students' education record without the consent of the student's parent or guardian or a court order. Even a law enforcement officer would be required to obtain a search warrant or a court order in order to obtain a copy of a security camera video recording that is part of a student's education record.
Installation of security cameras on parking lots, points of entry and other exterior locations creates practical considerations. Security camera recordings are pubic records subject to Alaska's Public Record Act. This means that school staff, parents, or members of the community are entitled to request copies of the security camera recordings. If a security camera recorded an automobile accident in the parking lot, the district may receive requests for copies of the video recording. Districts should ensure they have policies on the retention and disclosure of security camera video recordings. Districts should also consider the potential resources associated with fulfilling request for copies of security camera recordings.
Security cameras need a reliable network and regular monitoring by district personnel in order to be effective. Security cameras do not provide deterrent value if there is a perception that the district is not monitoring the recordings or if it is impossible to recover video recordings of critical incidents.
Districts need to ensure that security camera footage is stored securely and safely, and for a reasonable period of time. Districts need to be able to go back in time to recover video recordings of critical incidents. For example, if there is an incident of vandalism that occurred during a holiday break, but was not discovered until Monday, retention of security camera footage for only 24 hours would not be helpful. Districts should consider storage of security camera footage for at least 30 days.
Students and staff are being watched at school, at least in common areas. Security cameras have become a vital part of safety and security planning, but districts need to consider the loss in privacy from security cameras as well as the legal and practical impacts of their installation and use.
# # #
More of the series, Technology and the Law:
ALEXA, how is Billy doing in Math?
Effective communication: Website accessibility under federal law
"You can't take my phone!" Legal issues related to policies restricting students' mobile devices.
"Are we on the record?" Legal Issues with Recordings in School
The iPhone 11 – Not your Father's Flip-Phone
More from Sedor, Wendlandt, Evans & Filippi, LLC:
Eight-part series: Interacting with the world outside of the schoo
Five-part series: Union Issues in Schools
Four-part series: Freedom of Expression in Schools
The views expressed here are the writer's and are not necessarily endorsed by the Association of Alaska School Boards. AASB welcomes diverse perspectives and civil discourse. To submit a Guest Column for consideration, see our Guest Column Guidelines and email your 400-1000 word submission HERE.