DEED and AASB Release An Online Resource "Transforming Schools Trauma-Engaged Toolkit"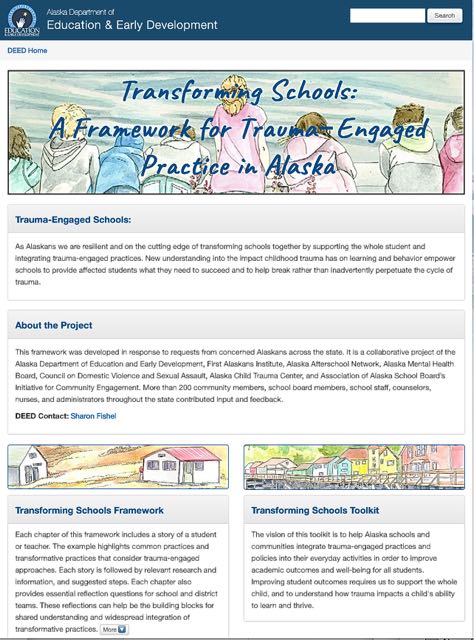 ---
"Our students, families, and school staff are facing unsettling challenges during this pandemic. The resources provided in this toolkit can help inform the supports, practices, and policies that our students will need now and in the future."
– Commissioner Michael Johnson, Department of Education and Early Development, Transforming Schools Toolkit Press Release
---
The Association of Alaska School Boards (AASB) and the Department of Education & Early Development (DEED) released a new resource for Alaska schools, the Transforming Schools Toolkit. This online resource is a companion guide to the "Transforming Schools: A Framework for Trauma Engaged Practice in Alaska," released in 2019. The toolkit provides activities, tools and resources for each of the eleven components of the framework.
Starting September 15th, weekly webinars and discussions will be offered to school district staff, school board members, and families. Sign up here.
At the recent release of the Transforming Schools Toolkit, during Alaska's Smart Start Summit, AASB and DEED included tools from four of the content areas: deconstructing trauma, relationship building, family partnerships, and self-care. The session panelists from Lower Yukon, Bering Strait, Sitka, and Mat-Su school districts pointed out how these tools are needed now more than ever and shared how their districts are approaching work in each of these areas.
Janet Johnson, Yup'ik Language and Culture Director for Lower Yukon School District shared examples of how the district is creating spaces where all voices are welcome. "Using the Qasriq model where everyone is invited to sit in a circle, every voice is welcome and heard," explained Janet. "We listen to the strategies and skills the community uses to build relationships with one another in a safe space. We listen to conversations about strengths and stories of overcoming challenges with the hope that we learn from one another."
Phil Burdick of Sitka School District added, "We need everybody on board with the strengths-based approach. That is everybody in the community, in a circle, listening to families and understanding where they're coming from. We must honor the strengths that they bring and build on those strengths and connections."
Listen to the panel Alaska Smart Start A Toolkit for Trauma-Engaged Practice During a Pandemic, or join DEED and AASB's upcoming discussions on Trauma Engaged Schools. 
What is the toolkit?
Superintendents, counselors, and school staff across our state have dedicated themselves to transforming their schools to become more trauma engaged.
In response to this work and the request for more tools, DEED, AASB and partners such as the Alaska Afterschool Network, have developed this online resource. The toolkit includes both Alaska-specific and national trauma-engaged strategies, presentations, readings, and discussion guides. Each section of the toolkit encourages school staff and community partners to enter where they are at and to continue to deepen their work.
AASB and DEED are releasing the Transforming Schools Toolkit resources in phases, taking into account district priorities during their COVID-19 response.
The first phase of the toolkit release includes an introduction to four of the eleven sections, including:
How can districts get involved with this work?
District leaders, school staff, and community members are invited to attend a weekly discussion series to explore and reflect on the tools available in each section of the toolkit. The first four webinars will take place September 15 through October 6 on Tuesdays at 3:30 p.m., with additional sessions to be scheduled as new sections are introduced.
"Providing clear, actionable resources like the toolkit can help inform how we support our students and partner with families not just during this time of uncertainty, but for the long-term," said Lori Grassgreen, AASB's Community Engagement Director.
About the Project
This partnership embodies the spirit of Alaska Education Challenge, which prioritizes the implementation of trauma-engaged learning environments in public schools. AASB and DEED are grateful to district staff, community partners, the Alaska Afterschool Network, and partner organizations for their invaluable contributions to the toolkit for all Alaskan schools.
For More Information
---